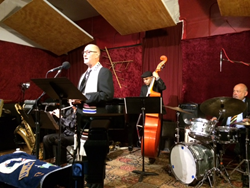 Hello Rabbi Steve - Love you and the Sim Shalom community all year long! Now go pay that find band! from a Sim Shalom regular and donor from Vancouver.
New York, NY (PRWEB) April 16, 2015
The Sim Shalom Online Synagogue will celebrate the High Holidays with a series of sacred and jazz-inflected services at The Bitter End– the iconic music and entertainment venue in Greenwich Village.
"Combining worship and performance at The Bitter End is a marvelous opportunity for us," said Rabbi Steven Blane, founder of Sim Shalom. "We'll be blending the holidays' spiritual uplift with the club's steep musical legacy. That should create a special experience for our congregants."
Sim Shalom brings the joy and intimacy of a Jewish service right into your home. With the use of modern technology, Sim Shalom enables people around the globe to participate in this virtual synagogue and obtain fulfillment of prayer and song while connecting via chat.
Last year's Holidays services at Zeb's Light and Sound in Chelsea were filled to capacity, and Sim Shalom is anticipating a similar response in attendance at The Bitter End.
"Our faith's sacred music and the spontaneity of jazz meet at a special place: spiritual joy," said Rabbi Blane. "That sense of pure joy travels well, and draws a crowd."
For the third year Rabbi Steve Blane brings together a mix of exceptional New York jazz musicians. This year's Sim Shalom holiday musical ensemble will include Rabbi Blane on vocals, Tal Ronen on bass, Carol Sudhalter on saxophone, Jack Glottman on piano and Frank Levitano on drums. We anticipate special guest artists appearances as well.
The Bitter End is located at 147 Bleecker Street, between Thompson and LaGuardia Streets. Some of the legendary artists who have performed at the club include: Bob Dylan, Neil Diamond, Woody Allen, Billy Crystal, Randy Newman, Stevie Wonder, Norah Jones, and Jon Stewart.
Services/performances will be offered on:
Rosh Hashana - Monday, September 14th at 10:30am
Yom Kippur - Wednesday, September 23rd at 10:30am
Neelah the End of Yom Kippur and Break Fast will take place on September 23rd at 5:00pm at the home of Rabbi Blane on the Upper West Side of Manhatten.
Tickets are $ 72per person, per service; children 12 & under $36.
To purchase tickets click on the links provided or visit the website.
About Sim Shalom:
Sim Shalom is an interactive online Jewish Universalist synagogue which is liberal in thought and traditional in liturgy. Pioneered in 2009 by Rabbi Steven Blane on Manhattan's Upper West Side, Sim Shalom offers a means of connecting the unconnected. Rabbi Blane leads accessible and short Kabbalt Shabbat services every Friday night using a virtual interface and additionally Sim Shalom provides online education programs, Jazz concerts, conversion and life-cycle ceremonies along with weeknight services at 7:00PM EST led by Rabbis and students of this online community.
Rabbi Blane is also the founder and director of the Jewish Spiritual Leader's Institute, http://www.jsli.net, the online professional rabbinical program.
Sim Shalom, a non profit 501 © (3) tax-exempt organization, nurtures a Jewish connection through its mission of innovative services, creative education and dynamic outreach to the global community. For more information visit http://www.simshalom.com or call 201-338-0165.