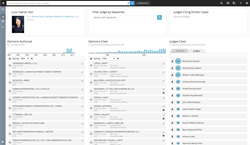 Ravel's Judge Analytics enables attorneys to confidently make decisions in the midst of complex information.
San Francisco, CA (PRWEB) April 16, 2015
Ravel Law announced today its new Judge Analytics product that provides litigators with never-before-available information and analysis about how individual federal court judges make decisions. Ravel applies data science, visualization, and machine learning to help lawyers make the best possible argument.
"Judge Analytics is our most advanced product yet, and it enables attorneys to confidently make decisions in the midst of complex information. It's a new class of legal technology that answers some of the most challenging questions that attorneys' and their clients face", said Daniel Lewis, Ravel's CEO.
By analyzing millions of legal documents, Ravel provides strategic insight into an array of factors that affect a judge's decision-making. This includes a novel all-in-one dashboard displaying the cases a judge has authored, all cases that they've cited to, and an analysis of other judges they are influenced by and other jurisdictions they consider most persuasive. Attorneys can drill down to specific legal issues and discover the exact sentences that judges like to copy and paste from opinion to opinion.
Prior to Ravel, creating a detailed data-driven understanding of an individual judge required days or weeks of attorney research, a high-cost effort performed by hand. More commonly at firms, emails are sent around each day asking who has experience in front of one judge or another, and the responses are almost invariably sparse, personal, and anecdotal.
"This is the kind of feature that law firm partners are likely to want on their desktops" says Jean O'Grady, Director of Research Services at DLA Piper. It applies "a 'big data' analysis to fill one of the voids where lawyers rely on intuition and anecdote because they are lacking objective data."
With deeper insight about the judges they practice before, litigators can make more informed strategic decisions about everything from how to frame arguments to whether to file a particular motion -- decisions that can make or break a case. Judge Analytics also ties seamlessly to the rest of Ravel's unique data visualization, research, and analytics features, allowing lawyers to pursue winning strategies and research up to 70% faster than with legacy tools.
Judge Analytics is available starting April 16 on Ravel's website, http://www.ravellaw.com, as part of Ravel's Premium subscription.
About Ravel Law
Ravel is a legal search, visualization, and analytics platform that identifies and interprets legal information to transform how lawyers understand the law. Ravel empowers attorneys to discover and exploit valuable knowledge gleaned from vast quantities of legal information. Founded by lawyers in 2012, Ravel spun out of interdisciplinary work between Stanford University's law school, computer science department, and d.school. Ravel is based in San Francisco, and is funded by New Enterprise Associates, North Bridge Venture Partners, Ulu Ventures, Experiment Fund, and Work-Bench.