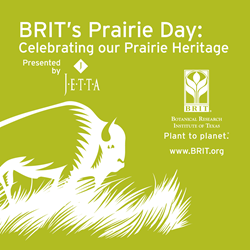 Fort Worth, Texas (PRWEB) April 15, 2015
Join Botanical Research Institute of Texas (BRIT) scientists and botanists at the BRIT campus, 1700 University Drive, in the heart of the Fort Worth Cultural District, for Prairie Day Presented by Jetta Operating Company, Inc. Saturday, May 16, 9 a.m. to 1 p.m. and help celebrate the beauty and vibrancy of the North Texas native landscape.
This is BRIT's free, annual, outdoor celebration with family-oriented, hands-on activities, events, demonstrations, and entertainment that showcase the native grasses, wildflowers, and vegetation that blankets the BRIT campus.
Activities include guided prairie walks, free BRIT tour, composting, children's crafts, solar oven cooking, face painting, and balloon twisters. Children will also learn how to build bug houses and paint using leaves. Everyone will learn about the cultural and natural history that defines our region through activities and games for the whole family.
Thirty-five exhibitors are scheduled to set-up on the BRIT prairie highlighting native plants. Organizations include: Log Cabin Village, Camp Fire First, Fort Worth Nature Center and Refuge, River Legacy Foundation, Metro Beekeepers Club, Texas Wildlife Association, Blackland Prairie Raptor Center, Van Zandt Cottage, Texas Parks & Wildlife, and new to the event, Xerces Society, Texas Discovery Gardens, and Fossil Rim Wildlife Center. (see below for a complete list of exhibitors.) In addition, there will be a variety of food trucks including The Juice Caboose, Kona Ice, Funky Town, Gina's Breakfast Sandwiches, and Righteous Ribs for drinks and food.
This year's entertainment includes live music by Prophets and Outlaws, a southern rock band with soul. Bring your lawn chairs and enjoy this free concert from 11:00 a.m. to 1:00 p.m.
Entertainment Schedule:
Birds of Prey Presentation, 9:30 a.m.
Prairie Plant Walks, 10 a.m.
Live Encounters with Native Snakes, 10:30 a.m.
BRIT Tour, 11:30 a.m.
Raffle & Announcements, Noon
The Prophets and Outlaws, 11 a.m. – 1 p.m.
BRIT acknowledges the gracious support of Jetta Operating Company, Inc. for its overall event sponsorship.
We would also like to thank:
Virginia Clay Dorman - Texas Buffalo Sponsor
Beth and Randy Gideon - Prairie Reptile Sponsor
Louise Carvey - Wildflower Prairie Sponsor
Helen K. Groves - Sponsor
NBC5 - Media Sponsor
Breaded Eel Brewery, Fossil Rim, Log Cabin Village, and BRIT Press - Raffle Sponsors