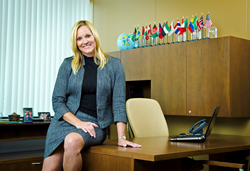 We hope that this event will impact the community and deepen engagement on this important issue. -Lori Blaker
Troy, MI (PRWEB) April 16, 2015
The Metro Detroit Chapter of the US National Committee for UN Women is pleased to announce that U.S. Immigration and Customs Enforcement (ICE), will be sending Detroit Special Agent in Charge, Dan Tewilliager, as representative to the event at Walsh College.
"Our audience will benefit in hearing from an authoritative expert on this subject," said Lori Blaker, President of the Metro Detroit Chapter of the USNC-UN Women, and CEO/President of TTi Global. "We hope that this event will impact the community and deepen engagement on this important issue."
Working with Dan Tewilliager is ICE's Homeland Security Investigations Detroit Special Agent in Charge, Marlon Miller. "For all the organizations participating in this forum," stated Miller," combating human trafficking is a top priority. Unfortunately, we believe a significant number of trafficking cases continue to go undetected, which is why we need to continue to engage the community at large. HSI remains a committed partner in any effort to share ideas on ways we can work together to disrupt and dismantle human trafficking organizations."
Human trafficking investigations often result from a tip from the general public. HSI encourages the public to report suspicious activity by calling its toll-free number: 1-866-347-2423. From outside the U.S. and Canada, callers should dial 802-872-6199. Tips can also be submitted online at http://www.ICE.gov/tips .
The event is open to the public. Tickets are $25 for adults, $10 for college students and free to students 18 and under. Tickets can be purchased by calling 248-417-6725 or on-line at: http://www.brownpapertickets.com/event/1376005 Space is limited. Please reserve in advance. Doors open at 10:30 AM. This event is being sponsored in part by Baker Tilley, TTi Global, The Detroit Press Club, Plus One Meetings and Prain Development
About the Metro Detroit Chapter of the US National Committee for UN Women
The Metro Detroit Chapter of the US National Committee for UN Women supports the efforts of the US National Committee through advocacy, education and fundraising. The US National Committee (USNC) for UN Women is an independent non-profit, 501c3 organization that supports the mission of UN Women and social, political, and economic equality for women and girls around the world.
The group hosts various events throughout the year and advocates for global women's issues and UN Women in communities around the country. The group also works to support legislation on global women's issues, especially on leadership, economic participation and ending violence against women.
Members and supporters are men, women, and children in cities around the country who give their time and resources to support a world where women of all ages have access to education and employment opportunities, and sustainable livelihoods that enable them to live free of gender-based violence. https://www.unwomen-usnc.org/detroit