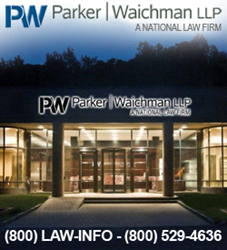 Extending these programs would give these survivors the medical aid and compensation that they deserve
Port Washington, New York (PRWEB) April 15, 2015
Parker Waichman LLP, a national personal injury law firm that has spent many years fighting to ensure that the heroes of 9/11 are never forgotten, is commenting on news involving the James Zadroga 9/11 Health and Compensation Act. An announcement released on April 12, 2015 by a group of bipartisan senators and House member—led by Senators Gillibrand (Democrat-New York), Kirk (Republican-Illinois), Schumer (Democrat-New York) and Representatives Maloney (Democrat-New York), Nadler (Democrat-New York), King (Republican-New York), and Zeldin (Republican-New York)—indicates that, on April 14, 2015, the group planned to announce the introduction of legislation to renew the Zadroga Act and extend its two programs, the World Trade Center (WTC) Health Program and the September 11 Victim Compensation Fund (VCF). First responders, 9/11 survivors and union leaders were expected to join the lawmakers.
"As a firm that has been fighting for the rights of 9/11 heroes since the beginning, we understand how crucial these programs are to responders and survivors," said Matthew J. McCauley, Senior Litigation Counsel at Parker Waichman LLP. "Extending these programs would give these survivors the medical aid and compensation that they deserve."
Parker Waichman notes that the firm was actively involved in working toward passage of the Zadroga Act, which provides medical treatment, monitoring, and compensation to individuals who were injured as a result of the September 11th terrorist attacks. These actions include, in part, lobbying efforts and trips to Washington DC by Matthew J. McCauley, Senior Litigation Counsel at Parker Waichman, often, with the firm's clients. Mr. McCauley and Parker Waichman continue to support the Zadroga Act and efforts to extend its timeline and scope.
According to Parker Waichman, the Zadroga Act is critical for many 9/11 first responders and survivors who were injured or became ill as a result of the attacks. The two programs are due to expire in October 2015 and October 2016. Over 33,000 responders and survivors became injured or ill during the attacks or in the recovery efforts. Two-thirds of these individuals suffer from more than one coverable condition; 3,900 cases of cancer have been diagnosed among responders and survivors.
Parker Waichman LLP, which worked, and continues to fight, alongside Ground Zero first responders, survivors, and their advocates, to help ensure passage of the Zadroga Act and its amendments, vows to continue its efforts to safeguard these heroes and ensure that they receive all of the Zadroga Act compensation they deserve. If you or a loved one are eligible for compensation under the Zadroga Act, and would like assistance with your claim, please visit Parker Waichman's Zadroga Act claims page at yourlawyer.com, or call 1-800-LAW-INFO (1-800-529-4636).