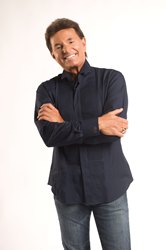 The Greatest Moment Of Discovery Is Not In What A Person Says, But In What A Person Does...
Chicago, IL (PRWEB) April 20, 2015
For more than three decades, Robb Thompson has inspired people around the world to live their dreams in business, life and in their relationships. His principles of excellence have improved the lives of tens of thousands, saving marriages, resurrecting careers and inspiring those burdened with frustration, despair or anxiety to achieve previously unimaginable heights.Robb is the best-selling author of more than 30 books. His book "Critical Laws of Relationships" demonstrates the path to happiness and success in relationships, how to overcome hostility, improve communication and eliminate roadblocks. The 2008 best seller "Solitary Refinement" identified the need for quiet, meditative "alone time" years before meditation became the latest go-to for solving the problems of our 'always on' society.
His 2012 book "The Elephant in the Room" showed how humans are inclined to avoid difficult truths and the consequences in individual lives and to society of denying the need for change. He shares practical, easy to implement techniques to lead self-conscious, ethical lives of excellence and peace.Robb is also a recognized authority on relationship building, personal development and successful leadership in the business world. In "Your Passport to Promotion", Robb shares the little known but easily understood principles for success in small businesses or the largest corporate environments. The principles that made this book a success form the foundation for his conferences, training seminars and coaching sessions. He is an in-demand speaker who travels the world coaching, training and mentoring entrepreneurs, senior executives, sales organizations and visionaries in the non-profit sector.
His high-energy, soul-touching coaching sessions leave attendees energized, confident and more disciplined, prepared to execute at new levels of performance for lasting excellence. Robb is also a philanthropist and humanitarian. Through his efforts and the work of the organizations he founded or advises, tens of thousands of poor, sick, hungry or suffering men, women and children have been helped in Uganda, Russia, India, Puerto Rico, Guatemala, Mexico and Haiti.
Whether it is medical or dental care, education, food, shelter and clothing in a crisis, or supporting the efforts of other organizations, Robb and his team are working every day to impact the lives of those most in need.
Long before the 2008 economic crisis revealed the integrity gap in Washington, the banks and on WallStreet, Robb was traveling the world explaining the desperate need for deep commitments to integrity in relationships and business.
Commitments to strong leadership processes without living principles of ethics and integrity inevitably leads to destruction, both at the personal level, within business and society, as well as governments. This need to focus on the character building of each individual-from the newest member of an organization to its CEO-is central to success and longevity within any organization, whether a venture-backed startup, a mature Fortune 100 organization or a fledgling mission group in Africa.
Thompson's live business training has already garnered rave reviews from clients:
Jane, a private school teacher, reported "Robb's Passport to Promotion success rates are half the reason [why] trainees flock to Robb's advice and tutelage. His students are consistently getting promotions, pay raises, and overall better job outlooks after completing the coaching program."
Robert, now senior executive and founder of a start-up company wrote, "I used to be timid and quiet. I was usually passed over for head teaching positions. With Passport to Promotion I learned to be assertive and more confident. Within six months, I was promoted to head of a teaching program."
Another delighted student, Martha—Manager of a publishing house—reported, "When I started my company, I knew there was huge competition. A year later I was ready to declare bankruptcy. I chose Robb's program as a last resort. It's been a little over 12 months and I just landed a partnership with a major bank designing their calendars and posters. My employees trust me more than ever – and I trust myself more managing them."
And Mike, a nurse who agreed to ride herd on a stable of editors and writers as an adjunct to his usual duties, reported, "Robb helped me so much with time management and assertiveness. Everything is running as smoothly as can be. I'm actually up for another promotion within the year!"
Thompson's online courses include business training and personal development. He is also available for one-to-one coaching and business workshops for small businesses and corporations locally, regionally, nationally and globally. And three times a year he hosts live session business conferences.
"We offer programs that help people progress professionally. It's simply a fact that no one can excel or climb a corporate ladder if they don't have everything they need, personally and relationally. Our live and online courses help bring people up-to-speed in whatever ways are needed."
Thompson's online clients receive a video every 14 days plus notes and worksheets, making each course convenient and easy to absorb between videos. Asked who his ideal client is, he responded, "Men and women between the ages of 35 and 55. My ideal client feels 'stuck' in his or her circumstances with no apparent way out. They're frustrated by their lack of forward progress, even though they work hard every day. In general, they don't know what to do with what they have, or what they still need to move forward. They want to be successful but they're afraid they lack some essential 'secret sauce' or skill set to make it happen. I help identify what's keeping them on the sidelines instead of on the field making those crowd-pleasing touchdowns."
Robb Thompson's live and online coaching programs help professionals and students excel in ways that exceed expectations and lead to elevated opportunities and the additional income that those opportunities bring. For more information, logon to Progressive Life, email him, or call him at (708) 307-4115.
CONTACT INFORMATION:
Kathleen, Managing Director
Robb Thompson
18500 92nd Ave, Suite 007
Tinley Park, IL 60487
Email Address: Kathleen(at)progressivelife(dot)com
7083074115