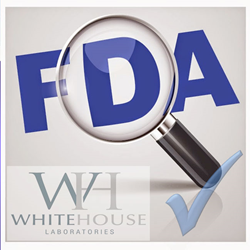 The respect and dedication to quality driven work will continue to ensure that Whitehouse Labs serves its clients in a manner that far exceeds the standards other test laboratories adhere to
(PRWEB) April 20, 2015
Whitehouse Laboratories is pleased and overly excited to announce that it has undergone its most recent Food and Drug Administration (FDA) inspection and received no observations and thus no form-483 was issued. The five day, GMP compliance inspection, as based upon 21CFR Parts 210 and 211, took place March 31st through April 6th and was granted NAI (no action indicated) status. The inspection covered all relevant areas of the strict Good Manufacturing Practice (GMP) quality system required by the regulatory agency. This represents the fifth FDA inspection in a row of Whitehouse Laboratories in a row resulting in no observable actions being taken; a true testament to the importance and diligence of the quality system in our work environment.
At a company-wide meeting held at the conclusion of the FDA inspection process, Mark Stier, Chief Operations Officer, shared the following comments with employees. "I would like to first thank and congratulate each and every one of you for the commitment you have made to quality work. As a result of your efforts, the FDA inspection once again resulted in NO OBSERVATION. The respect and dedication to quality driven work will continue to ensure that Whitehouse Labs serves its clients in a manner that far exceeds the standards other test laboratories adhere to."
The FDA inspection process is applicable to manufacturers or processors of FDA-regulated products to verify that they comply with relevant regulations. Those subject to inspection include vaccine and drug manufacturers, blood banks, food processing facilities, dairy farms, animal feed, processors, compounding pharmacies, facilities conducting clinical trials, laboratories that conduct studies in animals or microorganisms when these studies are used to apply for FDA approval of a medical product, foreign manufacturing and processing sites for FDA-regulated products that are sold in the United States and imported regulated products at the border. There are several types of inspections that are necessary and designed to help protect consumers from unsafe products: pre-approval inspection after a company submits an application to FDA to market a new product, routine inspection of a regulated facility, and "for-cause" inspection to investigate a specific problem that has come to FDA's attention.
The inspection process can also serve as a learning tool for the organization undergoing a review. During the most current inspection, a number of discussions centered on the qualification testing of excipients. While there are no specific observations noted or assigned, Whitehouse Labs will continue to work with clients to advise and ensure the testing they are requesting and performing meets the strict FDA guidelines as outlined in the Generic Drug User Fee Amendment of 2012. Whitehouse Laboratories shares the FDA directive that industry as a whole must work together to ensure the drug products brought to market meet or exceed all quality standards set.
About Whitehouse Laboratories
The Testing Partner to Manufacturing Companies, Whitehouse Labs is an FDA regulated, DEA Licensed, ISO 17025 and ISTA certified contract service provider to the pharmaceutical, medical device, personal and consumer product industries. Whitehouse Laboratories offers analytical services for the testing of materials, finished products, container and package systems that enable our clients to meet and exceed the required quality standards established by the key regulatory agencies.
About the Food and Drug Administration
FDA is responsible for protecting the public health by assuring the safety, efficacy and security of human and veterinary drugs, biological products, medical devices, our nation's food supply, cosmetics, and products that emit radiation. FDA is also responsible for advancing the public health by helping to speed innovations that make medicines more effective, safer, and more affordable and by helping the public get the accurate, science-based information they need to use medicines and foods to maintain and improve their health. FDA also has responsibility for regulating the manufacturing, marketing and distribution of tobacco products to protect the public health and to reduce tobacco use by minors. Finally, FDA plays a significant role in the Nation's counter-terrorism capability. FDA fulfills this responsibility by ensuring the security of the food supply and by fostering development of medical products to respond to deliberate and naturally emerging public health threats.