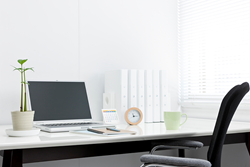 Mt. Pleasant, Michigan (PRWEB) April 24, 2015
Office Air Check is perfect for any workplace, including: corporate offices, small warehouses, restaurants, studios, gyms, and numerous types of facilities. Office Air Check is able to detect over 500 VOC's, formaldehyde, active mold growth, and tobacco smoke. This service will be available for purchase from http://homeaircheck.com/office-air-check beginning on March 4, 2015.
As the pioneer of air scan technology and leading consultative air testing laboratory in the United States, Prism is thrilled to extend state-of-the-art air scanning technology from the home to the office. Prism has a demonstrated track record of providing clients with the finest in air testing and has sold over 13,000 Home Air Check™ testing kits, the first comprehensive home air test for total VOCs and total level of actively growing mold to hit the marketplace. Numerous Fortune 500 companies, as well as hundreds of individual environmental consultants, have already enlisted Prism's services to help solve numerous indoor air quality, process control, industrial, and environmental challenges.
Breathing unhealthy air at work can lead to decreased productivity due to illness and time off! With Office Air Check, businesses can have healthier air in 3 simple steps:
1. Collect office air sample(s) using one or more Office Air Check test kit(s) and send everything back to Prism in the postage-paid return box.
2. The sample is analyzed and OAC sends a report detailing the unwanted chemicals (VOCs) and/or tobacco smoke in the air. OAC list the likely sources, and provide suggestions of what to do to improve the indoor air quality.
3. Enjoy peace of mind workplace air is cleaner and healthier! Ensure the indoor air quality remains healthy with regular testing.
Office Air Check offers a professional-grade analysis at an affordable price, an easy-to-use test kit, a world-class laboratory, and an easy-to-understand report that provides actionable items to begin the process for cleaner, healthier air in the workplace.
Home Air Check is the advanced, accurate test that offers a solution to numerous indoor air quality problems. It identifies over 400 VOCs, formaldehyde, growing mold, and secondhand smoke that may be lurking inside home air. Only Home Air Check offers a professional-grade analysis at an affordable price, an easy-to-use test kit, a world-class laboratory, and easy-to-understand answers clients can act on for cleaner, healthier air.
Prism Analytical Technologies is a multi-faceted company, providing a wide range of air testing support, including on-site monitoring and emergency response support. Prism's team of Analytical Chemists includes only degreed and highly trained analysts, many with advanced degrees. Prism's industry-leading management and scientific teams are committed to supporting clients with the best in individual service and attention.