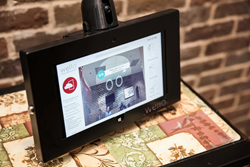 The old quote of saying 'I became sick from going to the doctor's office' is being greatly reduced. - stated Lena Graves, Sunflower Rural Health Clinic Director
Ridgeland, MS (PRWEB) April 20, 2015
Medical Grade Innovations (MGI) today announced it has partnered with North Sunflower Medical Center in Ruleville, Miss., to help reduce the potential for the spread of infection by installing four welloStations™ throughout its facilities. The welloStation provides a quick, automated, no-touch body temperature screening for employees, patients, suppliers and others as they enter an environment. The welloStation is just one of several products and procedural applications offered by MGI to curb the spread infection.
"At North Sunflower, we always strive to implement forward-thinking equipment, technology, and systems that improve patient care, which is our top priority," said Wayne Walters, chief executive officer, North Sunflower Medical Center. "The welloStation tells us who is febrile before they even make it to the patient room, therefore reducing the risk of illness spread in our waiting room and giving our clinicians patient information in advance. It is truly a breakthrough in how we will evaluate patients."
The welloStation is patented and HIPAA compliant. It detects core body temperature hands-free, and within three seconds. During temperature detection, the welloStation takes three photos of the user and stores them in the encrypted SAS 70 certified welloCloud™. With an open API, the welloStation can be integrated into time and attendance systems as well as electronic medical records. Over time, the data can be analyzed for trends and future planning.
"In the first 11 days of our implementation of the welloStation at North Sunflower Medical Center, we screened 553 people and detected 30 fevers before patients went to their assigned patient rooms," said Murray Cohen, Ph.D., MPH, CIH, president, Medical Grade Innovations. "This valuable information can save staff time and allow them to prepare for treating febrile patients earlier with new protocol that ensures they are not unknowingly impinging on other patients that are well."
Technology is present and an integral part of Sunflower Rural Health Clinic, which is one of the locations where the welloStation resides at North Sunflower Medical Center.
"The welloStation allows us to know when a patient is febrile before they are called to an exam room. This is accomplished by the no-touch temperature scanning welloStation," stated Lena Graves, Sunflower Rural Health Clinic Director, "We can now offer febrile patients a face mask and isolated seating earlier than before, in order to reduce the spreading of possible contagious illnesses. The old quote of saying 'I became sick from going to the doctor's office' is being greatly reduced. The community has embraced this technology that has improved their quality of care."
The welloStation is also used for the employees of North Sunflower Medical Center. If an employee presents a fever he/she is sent home for the day. In addition, North Sunflower Medical Center's Walter B. Crook Nursing Facility, which houses 60 elderly patients, utilizes the welloStation to keep fever from coming into the facility.
welloStations are available on a lease or purchase basis. Please contact (855) 474-5400 to learn more.
About North Sunflower Medical Center
North Sunflower Medical Center offers exceptional patient-centered care utilizing current clinical best practices, expanded clinical services through partnerships, and remains a vibrant community healthcare organization.
North Sunflower improves access to primary and specialty care and aims to provide the safest care environment for patients, families, employees, professional staff, and volunteers.
North Sunflower Medical Center exists to improve the lives of people in the Delta and works together with the community as a family. North Sunflower is committed to providing excellent, predictable, and measurable healthcare services that are delivered by competent and compassionate professionals regardless of race, ethnicity, religion or national origin.
About Medical Grade Innovations
Medical Grade Innovations (MGI) believes that the overall wellness in healthcare and the community at-large can be improved, in part, by looking at the medical environment from a variety of perspectives. Wellness must be a credential before we allow people, such as physicians, healthcare workers, suppliers, cafeteria workers, etc. to enter and exit. Minimizing the spread of infections and viruses through proactive public health initiatives is our main goal.
This is why MGI aims to research, train, and commercialize advancements in a variety of fabrics, wellness systems, and procedural applications in healthcare. In doing so, we hope to create and introduce programs that combine these new technologies and fabrics with unique worker, community, and supplier wellness initiatives. To learn more, please visit: http://www.medicalgradeinnovations.com.
About the welloStation
The welloStation provides you with a quick, automated, no-touch body temperature screening for employees, visitors, suppliers and all others who enter your facility. Measurement data is stored in the HIPAA compliant welloCloud® storage system for compliance and reporting purposes. Stop contagions from entering your facility with fever screening of all individuals entering your facility. Consistent and continuous screening from welloStation™ will lower HAI (Healthcare Associated Infections), stop employee absenteeism at your company and keep the community healthier. welloStation™ keeps productivity high and workers working well.
wello Inc. is committed to the care and safety of employees and patients. wello® is a subsidiary of FreshLoc Technologies®, pioneer in patient care and safety through temperature monitoring systems. Visit welloinc.com.