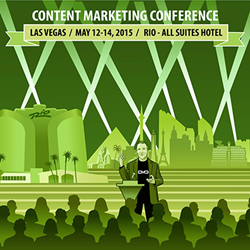 Content marketing is transforming the way businesses communicate.
Boston, MA (PRWEB) April 16, 2015
Responding to the ever-increasing demand for hands-on, actionable tools and techniques to ramp up content marketing capabilities, WriterAccess is spearheading a brand new, industry-transforming, educational conference. Designed to help attendees fortify their content marketing "smartitude," the Content Marketing Conference will be held May 12 to 14 at the Rio All-Suites Hotel in Las Vegas.
WriterAccess CEO Byron White, who serves as the Chair of the Conference, is packing the event with superior speakers, case studies and in-depth industry knowledge to provide attendees with transformational knowledge that can immediately be put to work. "Content marketing is transforming the way businesses communicate," commented White. "Businesses are producing more content now than they did just a year ago, and that trend just grows stronger every year. If a business doesn't have the tools to compete effectively, it will fall behind. This conference will provide the skills and information necessary to succeed." WriterAccess will bring about half of its team to network with writers and clients, and introduce newcomers to the benefits of content marketing.
The conference kicks off May 12 with a full-day content marketing workshop led by White and Arnie Kuenn of Vertical Measures. Entitled "Content Marketing Intensified," the workshop will cover the proven eight-step process that defines how to successfully leverage content marketing to generate more traffic, and grant attendees a Content Marketing Certification. There will also be a "Lost Ball" Charity Golf Tournament to raise money for the Jimmy Fund, which funds cancer research and drives awareness for early cancer detection.
Over the next two days attendees will have the opportunity to attend 27 sessions organized around the content marketing concepts of planning, creation, optimization, management, distribution and performance. In addition to White, some of the proven professional and content marketing speakers scheduled to present include Ardath Albee of Marketing Interactions, Inc., Bruce Rogers - Chief Insights Officer at Forbes and Mike Roberts of SpyFu, Inc. Sessions will cover case studies, tactics, and the latest methodologies. Keynote speakers are Douglas Van Praet of Unconscious Branding and Tim Ash of Site Tuners.
A "Tool Talk" networking opportunity on Wednesday, May 13, is an industry first. Attendees will have the opportunity to get the inside scoop on the 100 most powerful content marketing tools available from peers that put the tools to work every day.
WriterAccess is an online marketplace connecting customers directly with expert writers. The company's mission is to streamline content creation with great writers and editors that all have the passion, expertise and experience needed to help grow a business organically—the content marketing way. Visit the website or call 617-227-8800 for further information.