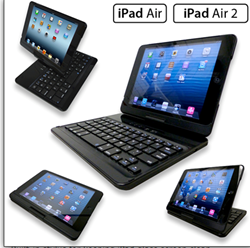 The flip turn mechanism is the ultimate multi-tasker. It performs acrobatic tricks on the iPad, allowing it to be used as a tablet, a laptop, or a movie player.
Chicago, IL (PRWEB) April 22, 2015
Let's face it, moms are the ultimate multi-taskers, and why not pay homage to that with the ultimate multi-tasking device? The Flip Turn is a hard shell case that offers full body protection, a built-in Bluetooth keyboard, and does acrobatic tricks to transform the iPad in three modes - laptop, presentation, and tablet (https://www.sunrisehitek.com/product/ipad-flip-turn). This case is currently available for iPad Air, Air 2, and Mini 2 and 3. The iPad Air and Air 2 models are now available for immediate shipment. This case is available in color choices of sleek silver or classic black. The iPad Air Flip Turn Case is made of durable polycarbonate for enhanced durability. It protects the iPad all around – front, black, all sides and corners. Rubberized soft touch coating on the black case gives it just the right amount of grip, and the silver painted case offers striking resemblance to Apple's Macbook Pro. Precision cutouts allow easy access to all iPad buttons, controls, and functions.
The flip turn mechanism is arguably one of the most versatile on the market. It performs acrobatic tricks on the iPad, allowing it to be used as a tablet, a laptop, or a movie player. By simply opening the case, the iPad wakes up and goes into laptop mode, tilting the screen at a comfortable angle for typing. When turned 180 degrees, the keyboard base becomes a stand, turning the iPad into a beautiful presentation device. Folding the case completely flat hides the keyboard, and the iPad becomes a normal tablet. The tension closure system also keeps the iPad closed when not in use, with an auto wake/sleep smart cover design to conserve battery.
About Sunrise Hitek
Sunrise Hitek's üuberstore, formerly known as iGear, is a leading maker of protective gear for Apple's iPad. The brand changed to üuber when the company starting developing cases for other devices, such as the MacBook, Chromebook, and Samsung devices. Sunrise Hitek Group, LLC, owner of the üuber brand, also operates Sunrise Digital, a leading digital printing company based in Chicago. As a G7 Qualified Master Printer, Sunrise is uniquely qualified among protective gear makers to offer a wide array of customization options, ensuring the most consistent and accurate color reproduction. Sunrise is an Inc. 5000 company established in 1988 and employs the most advanced equipment and technology, such as G7-certified HP Indigo and UV flatbed presses, and digital die-cutting, to create best-in-class products. A privately-owned enterprise, the company is based in Chicago and sells products worldwide.