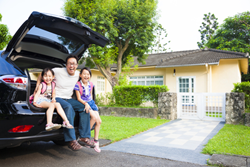 Rockville, MD (PRWEB) April 29, 2015
The combination this month of warm sunshine and tax refunds heating up bank accounts motivate many people to shop for big-ticket items they've been dreaming of all winter.
OpenSky, a business line of Capital Bank N.A., known for providing consumer financial and credit education, shares some insights consumers may want to consider before visiting showrooms:
According to Experian Automotive, the consumer credit bureau's car information arm, knowing where one stands financially is just as important as researching the market for the best deal. To get good terms on a loan, the first thing to consider is credit score. Auto lenders calculate the risks before lending money: the higher a person's credit score, the lower the risk and the lower the interest rate a lender will offer. That lower rate translates to less money paid over the life of the loan—a savings of hundreds or even thousands of dollars.
Another thing to consider is down payment. Saving for a substantial down payment means less money to borrow. Sizable down payments also give people more equity in their cars from the beginning, making them less of a risk to a lender—typically the higher the down payment, the lower the interest rate on a loan. Additionally it can be important to think about the length of the loan—a longer loan period means smaller, more affordable monthly payments now but more total payout over time.
It's also a good idea to research the best options and try to get pre-approved for a loan—this can strengthen a buyer's position when making a purchase offer. Talking to lenders at credit unions or banks with whom one already has a relationship and a good credit history may help get a better deal.
Finally time the car purchase to the market, if possible. According to financial publication Kiplinger, the time to get the best deal on a car is late summer or early fall. That's when the new models come in and dealers offer incentives for buying the current year's models. It may take will power to wait a few months—but picture driving down the highway in that beautiful new car, a lot more carefree because of spending less money!
"Getting your finances in order is the first step before trying to negotiate a large purchase," says Nick Bryan, president of OpenSky. "If you need a place to start, OpenSky's credit education can help you plan the steps to take to reach your financial goals."
About OpenSky
OpenSky is a business line of Capital Bank, N.A. that focuses on delivering credit building tools and resources to help consumers establish or re-build their credit. OpenSky credit card products are designed to be easy to get, easy to use and offer variable credit lines, allowing consumers with any financial needs to build a solid credit history. The premiere product, the OpenSky® Secured Visa® Credit Card, has been recognized by Credit.Net as one of the best credit cards for 2014 that build credit fast. With more than 50,000 cardholders and growing, OpenSky is committed to helping consumers meet their financial goals through the power of strong credit and credit knowledge.
For more information visit http://www.opensky.com
About Capital Bank
Capital Bank, N.A., is a leading private bank in the Washington, D.C. metropolitan area that offers a range of services encompassing cash management, commercial lending, consumer credit and residential mortgage/Veterans Administration mortgage loans. Capital Bank's core commercial banking and lending business includes two rankings by the U.S. Small Business Administration (SBA), ranked number two among community lenders and in the top ten among all lenders in the Washington Metropolitan District for loan volume for Fiscal Year 2014. With double-digit asset growth over the past three years, Capital Bank has more than $600 million in assets and is well positioned to fulfill its culture of collaborative partnerships and solutions for area businesses and consumers nationwide. For more information, visit http://www.capitalbankmd.com. Member FDIC. An Equal Housing Lender.
CAPITAL BANK, PARTNERS IN YOUR VISION
Sources
(1) Experian Automotive, "4 Steps to Take Before Buying Your Next Car": http://www.autocheck.com/consumers/content/before-buying-your-car.do
(2) National Association of Realtors (NAR), "Housing Affordability Index": http://www.realtor.org/topics/housing-affordability-index