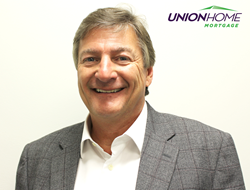 With over 25 years of sales and management experience in the banking industry, Craig Franczak is an exciting addition to the UHM team
Strongsville, OH (PRWEB) April 17, 2015
Union Home Mortgage Corp. (UHM) is excited to announce new UHM partner, Craig Franczak, as their East Coast Regional Sales Manager.
East Coast Regional Sales Manager, Craig Franczak, will recruit and develop partners by using his expansive knowledge of the industry. Overall, with his success in regional roles, he will implement infrastructure and systems to support and deliver profitable growth for the company.
"I am very happy to be a part of the UHM team," Franczak said. "UHM has an outstanding leadership team and presents an exciting opportunity for growth in the mortgage origination business."
"I am looking forward to fully immersing myself in the company's team-oriented culture and using the tools and resources UHM has made available to me, so I can better serve my customers," he added.
Franczak has been working in the banking industry for over 25 years. He has a passion for establishing productive teams, with a constant eye on customer service.
"With over 25 years of sales and management experience in the banking industry, Craig Franczak is an exciting addition to the UHM team." Jim Ferriter, UHM National Retail Sales Manager, said. "He brings with him extensive leadership experience in retail mortgage banking and we are confident he will help expand the UHM brand to the East Coast."
Franczak is well known for his accomplishments at Washington Mutual Bank and PNC Bank, where he managed branches throughout Pennsylvania, New Jersey, Maryland, Virginia, and more. Previously, Franczak was also Area Sales Manager at Wells Fargo where he was responsible for sales and operations.
UHM is known for its outstanding leadership in the mortgage banking community, and the addition of Franczak helps bolster this reputation. The organization, as a whole, is extremely fortunate to be welcoming this new Partner.
For more information about the leadership team at UHM or how you can join their growing company, please visit them at UnionHomeMortgage.com.