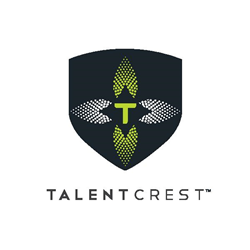 TalentCrest provides tremendous value to any organization that wants to hire quality staff quickly.
New York, NY (PRWEB) April 21, 2015
With over three decades of vast recruiting experience between them, co­-founders Michelle Furyaka and Nagesh Davuluri joined forces to introduce an innovative and cost­-effective plan that will save companies close to 50 percent off their current recruiting spend. Collectively, they've identified a tremendous gap in the market and established TalentCrest to provide their clients with superior recruiting results at an unparalleled price point.
Paul Cassell, former U.S CIO of NYSE states, "TalentCrest provides tremendous value to any organization that wants to hire quality staff quickly."
The Talent Acquisition (TA) industry is a $400 billion marketplace that grows 4 percent annually due to business' increased hiring demands. According to the U.S. Department of Labor and Statistics, the average cost of a poor hiring decision can equal 30 percent of the individual's first-­year earnings. TalentCrest recognizes the necessity for recruiting top talent efficiently, thus greatly reducing a company's cost per hire.
TalentCrest takes a hands­-on approach and assigns a dedicated team to work exclusively alongside a company's staff. To achieve superior results, TalentCrest utilizes a unique double screening process to ensure that only top quality candidates are presented to hiring managers. Hiring managers are also given access to TalentCrest's dashboard, which provides live updates of the entire recruiting process. TalentCrest's goal is to create a meaningful and successful partnership with its clients by offering a customizable recruiting solution to fill in any organization's hiring gaps.
As the TA industry continues to rapidly grow, it has become customary for companies to overpay for vendor and solution services. TalentCrest guarantees to eliminate the significant financial risk associated with recruiting by utilizing an innovative pay­-when-­you-­hire method.
TalentCrest is disrupting the Talent Acquisition space with the sole purpose to transform and elevate the industry standard. CEO Michelle Furyaka and COO Nagesh Davuluri firmly believe the best way to establish trustworthy relationships is by delivering results first. By providing a cost effective and performance-­based solution, TalentCrest will continue to raise the talent bar to new and unreachable heights.
Email a TalentCrest Strategist at info(at)TalentCrest(dot)net to see how TalentCrest can impact your organization.
About: TalentCrest was founded by two experienced recruiting professionals with over 35 years of combined experience working for some of the industry's biggest names. They are innovators and have run a successful Recruiting Firm in NY/NJ area for the past 9 years.
Contact: 3 Columbus Circle, 15th Floor New York, NY 10019 Email: Info(at)TalentCrest(dot)net
LinkedIn.com/in/MFuryaka