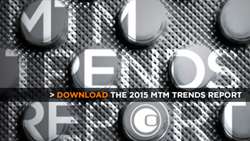 MTM interventions increased by 50% and more than 8,500 new pharmacies participated for the first time.
Des Moines, IA (PRWEB) April 16, 2015
Medication Therapy Management (MTM) industry leader, OutcomesMTM™, has released its 2015 MTM Trends Report. The third edition of this report demonstrates the impact of face-to-face MTM services on enhancing patient care through an MTM case study, personal MTM stories and performance metrics for the OutcomesMTM Personal Pharmacist™ Network.
"2014 was a tremendous year in MTM," said Brand Newland, PharmD, MBA, OutcomesMTM Vice President of Business Development. "MTM interventions increased by 50% and more than 8,500 new pharmacies participated for the first time—while the overall industry continued to evolve in important ways. The Trends Report captures all of this and more in a resource we hope proves valuable to industry stakeholders over the next year."