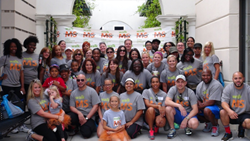 Altamonte Springs, FL (PRWEB) April 16, 2015
BioPlus Specialty Pharmacy (BioPlus), one of the nation's leading innovative specialty pharmacies, participated on April 12, 2015 in the National MS Society fundraising event, Walk MS. Walk MS is a national walking event to raise funding and awareness for the fight to find a cure for MS. Teams who participate in Walk MS raise money to improve the lives of people living with MS through programs, services and research.
Walkers began their walk at the end of New Broad Street in Baldwin Park and completed the 2.5 mile walk around Lake Baldwin. Music, food and dancing kicked off the walk in a high energized way.
"The event was filled with positive energy by participants and volunteers in support of MS awareness," shared Shereen Loria, MS Hub Coordinator of BioPlus. "A fundraising event like Walk MS is important, as it will continue to advance treatment and research to provide quality care for those with MS."
The BioPlus walking team had 35 employees attend along with friends and family and raised over $1,100. Together, Walk MS teams achieved a funding of over $144,000 towards finding a cure for MS.
"We are thrilled to be able to make this donation to the National MS Society to help in their fight against Multiple Sclerosis.," said Stephen Vogt, Pharm.D., CEO and President of BioPlus Specialty Pharmacy. "It is important to BioPlus to support local organizations that are making a positive impact towards finding a cure for this disease which affects so many."
About BioPlus Specialty Pharmacy
BioPlus Specialty Pharmacy is the first specialty pharmacy to introduce a two hour turnaround from referral to patient acceptance. BioPlus... Where healing begins in 2 hours. Our company celebrates 26 years of excellence in specialty pharmacy, working closely with payers and the pharmaceutical industry, as well as with prescribers to get prompt treatment for patients, and directly supporting our patients nationwide to achieve optimal health outcomes. Our proprietary web tool Tap App, connects prescribers to the pharmacy by bringing the pharmacy chart into the doctor's office with real-time specialty pharmacy information and treatment monitoring.
BioPlus provides a complete range of specialty services, including for hepatitis C, cancer, bleeding disorders, and other complex, chronic conditions. BioPlus, a privately-held, pharmacist-owned company based in Altamonte Springs, Florida, is accredited by URAC, VIPPS, and the Accreditation Commission for Health Care (ACHC).
For information: http://www.bioplusrx.com
Contact: info@bioplusrx.com
Phone: 1-888-292-0744
###