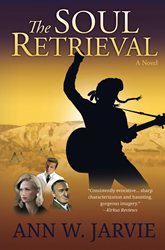 "I set out to wrap page-turning suspense around a wounded character's spiritual journey." -- Ann W. Jarvie
Paradise Valley, AZ (PRWEB) April 21, 2015
New Author Ann W. Jarvie launched her debut novel, The Soul Retrieval, and on its first public day of March 31, 2105, landed at the top of one of Amazon's Best Sellers' lists (Genre Fiction/Metaphysical Fiction).
"I'm both thrilled and humbled by the initial results and all of the positive reviews being posted on Amazon, but mostly I'm just grateful," said Jarvie. "The novel was inspired by my maternal grandmother Henrietta's life on a Native American reservation, where she lived with her physician husband until his mysterious and untimely death. Researching, writing and sharing this novel has been a labor of love, and I couldn't be happier about how well it's being received."
From the back cover:
"Inspired by a true story, The Soul Retrieval is a suspenseful tale of love, loss and healing which follows traumatized southern beauty Henrietta Clayborn as she moves between her home in a small South Carolina town and the New Mexico Native American reservation whose spontaneous healings keep drawing her physician husband back. Tortured by her awful secrets, Henrietta struggles to thrive in either locale, but it is her unlikely friendship with Joe Loco––an eccentric Native American mystic with an Elvis fetish and a gift for healing––that shows her the way to be whole again.
Set in the late 1950s, The Soul Retrieval is richly woven with spiritual insights but also deadly secrets, forbidden healings, a murder mystery, stunning scenery and an unforgettable cast of characters.
A story of transcendent and inspiring power that is both entertaining and enlightening, readers will be cheering for the uptight woman from South Carolina to push through her fears of the forbidden as she searches for truth and healing, faces great obstacles on the frontier of self and ultimately becomes more than she ever thought possible."
Kirkus Reviews described The Soul Retrieval: A Novel as "consistently evocative … (with) sharp characterization and gorgeous, haunting imagery." Pacific Book Review rated it with "5 out of 5 Stars" and said: "A riveting read by writer Ann W. Jarvie, The Soul Retrieval will take readers on a journey filled with mystery, suspense, love and hope … The book tells two stories, one of the past and one of the present … When the two stories collide in the present, the reader is placed on a roller coaster of emotions."
"I set out to wrap page-turning suspense around a wounded character's spiritual journey of love, loss and healing. In short, I wanted to write a spiritual thriller. I'm delighted that it's resonating with readers," Jarvie added.
The Soul Retrieval: A Novel is available on Amazon.com. Ann W. Jarvie has a B.A. in journalism from the University of South Carolina and more than twenty-five years' experience as an award-winning writer in advertising and public relations agencies, both in South Carolina and Chicago. She now lives with her husband and two boxer dogs in Paradise Valley, Arizona, where she spends part of her time as a freelance copywriter and the rest writing fiction.
Connect with her through her author website, Facebook and Twitter accounts.