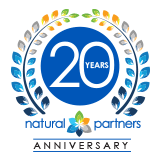 For 20 years, healthcare practitioners have purchased professional-grade nutritional supplements at wholesale prices from Natural Partners to help their patients…
Scottsdale, AZ —
(PRWEB) April 17, 2015 -- Natural Partners, a technology-driven service provider that strives to help integrative healthcare practitioners better serve their patients by providing education and high-quality products. This month, Natural Partners celebrates 20 years of distributing wellness products through a diverse network of licensed healthcare practitioners by kicking a off a year-long, customer-focused campaign aimed at recognizing customers, building awareness for health and wellness while featuring special offers and festive customer participation events.
Natural Partners CEO and co-founder, Tye Smith recently shared his insight about the 20th Anniversary milestone; "I want to express my profound gratitude to our amazing NattyP Team, our brilliant health practitioner clients, our innovative manufacturer and supplier partners, our prescient and patient investors and most of all to my beloved wife and partner, Dianna."
For 20 years, healthcare practitioners have purchased professional-grade nutritional supplements at wholesale prices from Natural Partners to help their patients, stock their storefronts and build their offline dispensaries. Practitioners can soon choose to offer vitamins, supplements, and wellness products to their patients via personalized online dispensaries, powered by Natural Partner's single serve solutions.
Customers and employees alike will enjoy a full year of festivities that include online promotions, customer discounts, wellness trivia, special events, races and culture-building events for Natural Partners staff. The Natural Partners website and social media streams including Facebook, YouTube, Twitter and Linked In, will all chronicle new events, developments, videos and photos as the celebrations continue.
"When looking back at all we have accomplished in the Natty P years," Tye reflects, "I suspect what will be remembered most dearly will be the extraordinary relationships and experiences we have shared together. In the coming years as Natural Partners forwards 'The Possibility of World Wellness' it is my fervent intention that all who come in contact with Natural Partners will discover profound personal development, relationships, fulfillment and yes… just a little bit of that Natty P Love."
Since 1995, Natural Partners, Inc. has provided a convenient way for medical practitioners to dispense professional-grade vitamins, supplements and other wellness products to their patients. This ensures patients enjoy the care and superior products they deserve from professionals they trust. Natural Partners carries more than 14,000 natural products from more than 150 top quality brands including; Integrative Therapeutics, NeuroScience, Thorne Research, Pure Encapsulations, Designs for Health, Vital Nutrients and many more.
Connect and share at http://www.naturalpartners.com or across Facebook, Twitter and Linked In.