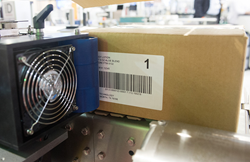 Ft. Worth, TX (PRWEB) April 16, 2015
ID Technology, powered by Pro Mach, announces the release of their new "Patent Pending" Wipe-On module for the Model 250 and Model 252 Label Printer Applicators.
ID Technology has been providing wipe-on Label Printer Applicators for years with the Models 450 and 455. Now they have a module that has the flexibility to bolt onto the Industry Leading Models 250 and 252. Like the Model 252 the module is built on the Centerline-Modularity™ concept, a method of removing manual adjustment points. This simple elegant design does not need plant air and has no moving parts or complicated servo drives.
This module is perfect for GTIN and GS1-128 bar code labeling and high throughput. There is no line speed matching restrictions. Uncoupling the print speed from the conveyor speed allows for lower print speeds resulting is better print quality and lower stress on the printhead and printer.
By being part of the Model 250 and Model 252 modular platform you are not tied into a proprietary print engine. You may choose from the major print engines from Sato, Zebra and Datamax. This also gives you the choice of proven, lower cost printheads in 203, 300, 400 or 600 DPI print resolutions.
If your application needs and requirements change, this module can be swapped out with any other application modules available for ID Technology Label Printer Applicators. These include tamp, dual-tamp, three-panel tamp, corner wrap and swing arm tamp. You do not have to start over with a new machine.
About ID Technology
ID Technology designs, manufactures and integrates custom identification systems and is recognized as a leading single-source provider for labeling, coding and marking equipment, expertise, service and supplies. ID Technology is based in Fort Worth, Texas and operates 17 regional offices across the United States and Canada. For more information or to locate one of the ID Technology nationwide sales and service centers, call 888.438.3242 or visit our website at [http://www.idtechnology.com.
ID Technology is powered by Pro Mach, a Cincinnati, Ohio based provider of integrated packaging and processing products and solutions for food, beverage, consumer goods, pharmaceutical, and other diverse companies. Through multiple brands, Pro Mach provides product packaging and processing equipment, PMMI certified training, installation, parts, and service in Bottling & Capping, Primary Packaging, Flexible Packaging, Material Handling, Identification & Tracking, and End of Line Packaging. For more information about Pro Mach visit http://www.ProMachInc.com.