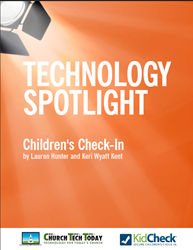 This complimentary ebook was designed to provide churches with pertinent suggestions they can put into practice to improve child safety, understand technology, and positively impact families they serve.
Boise, Idaho (PRWEB) April 23, 2015
KidCheck, providers of secure children's check-in systems, today announced the informative new ebook, "Technology Spotlight: Children's Check-In". This complimentary ebook was developed in partnership with ChurchTechToday to help churches understand the benefits technology, such as an electronic children's check-in system, can bring to their children's ministry.
The ebook delivers a wealth of information and actionable best practice suggestions across a variety of topics that can easily be put into practice.
Topics include:

Serving Children - a strong safety foundation, modern families
Addressing Concerns - allergies/medical, abuse, procedures and planning
Volunteers - background checks, training, agreements, policies
Visitors and Holidays - welcoming visitors, holiday and event safety
Communication with Families - opportunities and technology
Resources - abuse prevention, background checks, children's ministry websites and blogs
"The 'Technology Spotlight: Children's Check-In' ebook was designed to provide those in children's ministry both with pertinent suggestions, as well as important general information, that they can quickly and easily put into practice to improve child safety, better understand available technology, and help positively impact the families they serve," said Alex Smith, KidCheck CEO.
Smith continued, "It's important to us to be able to share the knowledge and experience we've acquired over the years from serving churches of all sizes. We are thrilled to be able to combine that knowledge with the church technology expertise of such a cutting edge website as ChurchTechToday to deliver this insightful free ebook."
"The topic of children's security is critical—especially given the myriad of issues that many families currently face—from allergies, to social media, to restraining orders," commented Lauren Hunter, founder and editor of ChurchTechToday.com. "Our aim in writing the ebook was to provide churches with practical information and solutions to common security issues and concerns that children's ministry staff must consider to keep the children they serve safe in today's Church."
In other recent news, KidCheck offers "Improving Child Safety" webinar.
About KidCheck
KidCheck, Inc. provides secure, web based children's check-in software and complete check-in station solutions for churches, fitness facilities, and organizations caring for children. KidCheck is committed to delivering easy-to-use, reliable and secure check-in systems backed by expert, personal service and support. To learn more or to sign up for a demo visit http://www.kidcheck.com.
About ChurchTechToday:
ChurchTechToday is the #1 church technology website for pastors, communicators, and leaders. With the goal to provide insight into a variety of topics including social media, websites, worship, media, mobile, and software, ChurchTechToday aims to shed light on how church technology can empower and position churches for impact and growth. http://churchtechtoday.com/