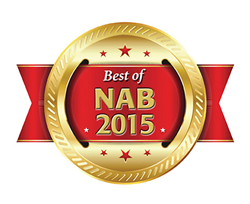 This year's Streaming Media Best of NAB winners share one thing in common
Medford, N.J. (PRWEB) April 15, 2015
At this year's National Association of Broadcasters (NAB) show in Las Vegas, Streaming Media presented its third annual "Best of NAB" awards. With more than 1,700 exhibitors, including 244 that were there for the first time, NAB is the ultimate destination for attendees interested in every step of the online video value chain. Our Best of NAB winners rose above the crowd with truly innovative products and services.
The winners are:

1 Beyond U-Switch
Blackmagic Design Micro Cinema Camera
Marshall VAC-11HU3 & VAC-11SU3
Neon Live
Streambox Drone Encoder Pro
VITEC MGW Ace
"This year's Streaming Media Best of NAB winners share one thing in common: They all demonstrate the ways that online video is becoming more mobile, more portable, and more accessible to more viewers," said Streaming Media editor Eric Schumacher-Rasmussen.
More information on the Best of NAB winners can be found at http://www.streamingmedia.com/Articles/Editorial/Featured-Articles/StreamingMedia.com-Presents-the-Best-Products-of-NAB-2015-103192.aspx.
The judges for the Best of NAB Awards were Streaming Media editors Eric Schumacher-Rasmussen and Troy Dreier, Streaming Media Producer Editor Steve Nathans-Kelly, Streaming Media contributing editor Tim Siglin, and Streaming Media Producer contributing editor Shawn Lam.
About Streaming Media Magazine
Streaming Media magazine and StreaminMedia.com are the leading print and web publications for the online video industry, focusing on encoding/transcoding, content delivery, distribution, and OTT. Streaming Media Producer (StreamingMedia.com/Producer) is the premier online destination for professional online video producers seeking expert insight on capturing, editing, and delivering live and on-demand online video for commercial, corporate, educational, and event applications.
The magazine also administers and hosts the annual Streaming Media East, Streaming Media West, and Content Delivery Summit conferences. Each of these properties is solely focused on giving attendees the chance to see and hear the best and the brightest minds in the online video industry—at the podium, in the Exhibit Hall, and among the attendees. For more information about the magazine, its editorial calendar, its events or Streaming Media magazine in general, please visit us on the web at StreamingMedia.com, or on Twitter at @StreamingMedia (twitter.com/StreamingMedia). The StreamingMedia.com website (which is updated daily) and Streaming Media magazine are properties of Information Today, Inc.