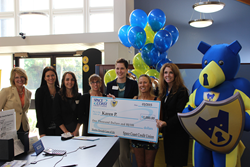 (PRWEB) April 16, 2015
Space Coast Credit Union (SCCU) recently announced Karen P., of Cocoa Beach, as the grand prize winner of its Member Rewards Stages of Life Game, and they surprised the member with a check for $1,000 on March 19, 2015. The credit union conducted the sweepstakes from December 12, 2014 through February 28, 2015 to raise awareness for its new Member Rewards program. Members and prospective members entered the sweepstakes by playing an interactive, educational game on the credit union's website. Each space on the life-themed virtual game board revealed key facts about the new rewards program, culminating in a short quiz, which was also the entry form.
During the 11 week sweepstakes 11,270 people played the Member Rewards Stages of Life Game, and the winner was selected in a random drawing. When the winner was asked about the contest, Karen said, "I have been a member at this branch for 15 years. My husband, my mother, and both of my adult children have accounts there as well. SCCU has a great Member Rewards program, competitive interest rates and friendly and knowledgeable staff." She was overjoyed with the $1,000 prize, explaining that she was in the middle of remodeling her bathroom and the money would aid with that project.
SCCU launched its new and improved Member Rewards program in January 2015 to create economic benefits for active participation in the credit union. As a financial cooperative, the credit union derives strength from the members who use SCCU through all stages of life; and its Member Rewards program gives members incentives to use SCCU for all of their financial needs. The more a member participates in the credit union by using its products and services, and through transaction volume, the greater the rewards.
SCCU's revamped rewards program includes some significant enhancements that benefit its members, including more levels to better reflect the differences in member participation. This enabled SCCU to offer those members who participate the most in the credit union more enhanced benefits, such as Free Checking, credit card rewards with up to 2% cash back on purchases, reserved parking, plus many discounted and free services. "It's a fair model that communicates the way a financial cooperative works while rewarding members who actively participate in it," said Heather Hickman, Senior Vice President of Retail Delivery. "We are pleased with the way members are responding to the program and consolidating their banking needs that were at several other institutions with us. Many members simply didn't know we offer a full portfolio of financial products and were delighted to find out that they not only don't need to go anywhere else, but also have an incentive for doing all of their business with us," Hickman added.

Space Coast Credit Union was chartered in 1951 and is headquartered in Melbourne, Florida. The Credit Union serves over 280,000 members with assets of over $3 billion through a network of 58 branches and over 100 ATMs located throughout Florida and through its web site, SCCU.com. Space Coast Credit Union is open for membership to anyone who lives or works in the fourteen Florida counties it serves. Locations can be found at SCCU.com/locations.