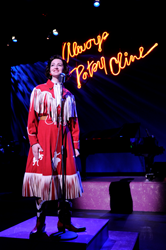 Salt Lake City, Utah (PRWEB) April 15, 2015
Back by popular demand, "Always…Patsy Cline," starring Erica Hansen and Toni Byrd, will close out the season at Salt Lake Community College's Grand Theatre May 7-23.
Throughout the show Hansen and a live band will perform 27 of Patsy Cline's songs as they are blended into the heartfelt, true story of a rare friendship between Patsy and a devoted fan. The original two-woman show was written and directed by Ted Swindley. Cline, who died in a 1963 plane crash at age 30, has been called one of the most influential, successful and acclaimed female vocalists of the 20th Century.
From May 7-23, there will be evening performances at 7:30PM, Thursday-Saturday, and at 2 p.m. each Saturday. Tickets are $14-$20. For more information, or to purchase tickets, call 801-957-3322 or visit http://www.the-grand.org.
The Grand Theatre is a 1,100-seat venue located at Salt Lake Community College's historic South City Campus, home of the innovative, state-of-the-industry Center for Arts and Media at 1575 South State Street in Salt Lake City. The Grand was chosen by Sundance Institute to be a screening venue during the 2015 Film Festival. The theatre dates back to the 1930s when it was part of South High School, which SLCC purchased in 1989, a year after the high school closed. The Grand began offering productions that year and has, with great care and expense, retained its Depression-era charm and attraction while also incorporating the latest technology in the performing arts. Every season, the Grand is host to award-winning theatre and dance productions and concerts that attract arts enthusiasts from all along the Wasatch Front.
Show Name: Always…Patsy Cline
Starring: Erica Hansen and Toni Byrd
When: May 7-23, 2015
Show times: 7:30PM, Thur-Sat, 2PM Sat
Where: Grand Theatre, 1575 S. State Street, SLC, 84115
Info: 801.957.3322 or http://www.the-grand.org