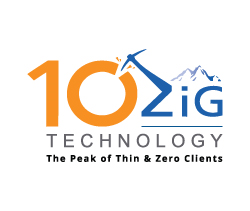 10ZiG are perfectly positioned to offer existing Tera 1 users an upgrade path to our Tera2 Zero Client family and reap the benefits of future versions of VMware Horizon
Phoenix, AZ (PRWEB) April 16, 2015
10ZiG Technology today announced that its Board of Directors have approved a buyback program for existing Tera1 PCoIP Zero Client users when upgrading to 10ZiG Tera2 hardware. 10ZiG has opened this offer to their existing Tera1 customer base and ALL worldwide Tera1 users who purchased from ANY Teradici OEM vendor. This includes the Wyse P20, EVGA PD05, Samsung and any other Teradici OEM Manufacturer who offered you a device with the Tera1 chipset.
The Buyback Program offers all Tera1 users a great savings when upgrading to 10ZiG's Tera2 hardware, it will also offer consumers access for up to 3 Years of FREE Advanced Exchange Warranty, up to 3 Years' FREE access to 10ZiG's VMware and Teradici trained world class support as well as the access to the PCoIP Management Console with every device upgraded.
The news comes off the back of Teradici's announcement that the Tera 1 Portal Processor will no longer support future releases of VMware Horizon, with the last supported version being 6.0.1. The Tera1, first launched in 2007, has now reached its limit in terms of new features that can be added. Horizon RDSH, Client-side Cache and Text CODEC are just some of the features not supported on Tera1 and are therefore incapable of being certified against Horizon 6 and higher.
"It is great news that VMware and Teradici continue to make leaps forward to ensure End User Computing caters to all types of use cases. The Tera1 Chipset has been around for over 7 years and it still provides a greater user experience than most general purpose x86 or ARM processors found in traditional PC's and Thin Clients. While Tera1 end points will still connect to a Virtual Desktop in a VMware Horizon 6.0.1, future releases will no longer be supported by VMware, Teradici or 10ZiG. We think it's a testament to the ground breaking progress that Teradici has made to date. As a solely focused Thin and Zero Client vendor with Teradici and VMware trained Sales and Support teams, 10ZiG are perfectly positioned to offer existing Tera 1 users an upgrade path to our Tera2 Zero Client family and reap the benefits of future versions of VMware Horizon," explained Martin Pladgeman, President of 10ZiG Technology.
To find out whether this affects your VMware environment, please see 10ZiG's latest blog post HERE.
10ZiG Technology offer the widest range of Tera2 PCoIP Zero Client devices on the market, including traditional standalone units supporting VESA Mounting, Dual screen, Quad screen and support for up to 6 USB ports. 10ZiG also offer their V1200-AIO All-in-One device with in-built 24" monitor, and their 21.5" V1200-AIOM215 Medical All-in-One unit with anti-microbial treated plastic (sealed to meet IP23 and ISO22196), supporting optional integrated touch screen.
For more information about 10ZiG's Buyback Program, or to test any of the new Tera2 hardware, please visit contact the relevant office below.
10ZiG Technology Inc. (Company Headquarters, US)
866-865-5250
sales(at)10zig(dot)com
10ZiG Technology Ltd (EU Headquarters, UK)
+44 (0) 116 214 8650
sales(at)10zig(dot)eu
About 10ZiG Technology
Solely focused in the development of Thin and Zero Clients for the latest desktop solutions, 10ZiG Technology has long-standing partnerships with such industry leaders such as Citrix, VMware and Microsoft. All with the aim of providing the best performance possible by supporting the full feature sets of acceleration protocols such as PCoIP, RDP 8.1 and HDX 3D Pro. 10ZiG offers traditional dual screen Thin and Zero Clients, including the widest range of TERA2-based PCoIP devices on the market, and also cater for Quad Screen, All-in-One, and medical-specific use cases. 10ZiG devices come with a variety of OS's, including NOS (Zero), PEAKos (Linux), Windows Embedded 7 (WES7) and Windows Embedded 8 (WE8). They are all accompanied by the 100% FREE enterprise class 10ZiG Manager Utility, enabling centralised configuration, maintenance and control of all 10ZiG Software Zero, Linux and Windows devices. The 10ZiG product range is underpinned by the most personal Sales and Support service on the market, and 10ZiG are willing to put it to the test through their no-obligation, no-hassle, flexible 30 day demo offer. To learn more, or to arrange your demo, visit http://www.10zig.com or follow them on Twitter: @10ZiGTechnology
Media Contact:
Christine Holtz
Phoenix Marketing Associates