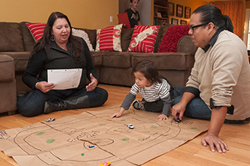 ...this is an important recognition by Congress that early childhood education is a high priority.
St. Louis, MO (PRWEB) April 15, 2015
Parents as Teachers, a leader in the early childhood home-visiting field with programs in all 50 states, today praised members of Congress for their bi-partisan support to extend the Maternal Infant and Early Childhood Home Visiting (MIECHV) program through March 2017.
In his comments about the passage of this legislation, Parents as Teachers President and CEO Scott Hippert said: "The extension of this dedicated Federal funding stream for evidence-based home visiting services is an important recognition by Congress that early childhood education is a high priority. It sends that message that home visiting is critical in helping families prepare their children for stronger and healthier starts in life and greater success in school."
Last night's vote in the U.S. Senate includes home visiting language originally negotiated as part of the so-called "doc fix" legislation in late March by House Speaker John Boehner and Minority Leader Nancy Pelosi. Having passed both chambers of Congress, the bill now goes to President Obama for signature.
In the past month, Parents as Teachers joined with more than 750 organizations from all 50 states to send a joint letter to 14 high-ranking congressional leaders. The letter noted that "evidence-based home visiting improves prenatal care and birth outcomes, early childhood health and development, school readiness, and parenting practices; reduces child maltreatment and helps families become more self-sufficient."
The premise of Parents as Teachers is simple. Trained parent educators visit parents and their young children in the home; in some cases, they start visiting with the mom during her pregnancy. These visitors provide developmental screenings, community referrals, parenting advice and guidance during regularly scheduled personal visits.
"From this simple premise, the lives of the parents and children served can change profoundly," said Hippert. "This is not just wishful thinking; home visiting invests taxpayer dollars wisely to address problems that matter with solutions proven to work."
Hippert added that the Parents as Teachers evidence-based model is currently being utilized by 189 MIECHV supported programs in 32 states and an additional 13 tribal programs in 10 states.
About Parents as Teachers: Founded in Missouri in 1984, Parents as Teachers is a nonprofit organization that serves more than 250,000 families in all 50 U.S. states, more than 100 Tribal schools and communities, and six other countries. Its network of affiliates use an evidence-based model to deliver parent education primarily through personal home visits, equipping parents with knowledge and resources to prepare their children, from birth to kindergarten, to learn, grow and develop to realize their full potential. For more information, visit http://www.ParentsAsTeachers.org.