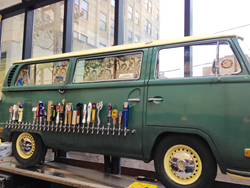 We've partnered with PourMyBeer at a number of properties, and their system is by fare the most reliable and easy to use.
Chicago, Illinois (PRWEB) April 16, 2015
The owners at Big Onion Tavern Group (BOTG) wanted to create a space unlike any of the other concepts they've opened in an ever growing portfolio of restaurants. The newest addition to the BOTG family is nothing short of spectacular. There are two floors to choose from, but the first floor is where they showcase a card catalog with built in beer taps, which feature 34 different flavors of craft beer awesomeness. The theme of the first floor is hunting-lodge-meets-1980s-library. Another unique feature are two booths featuring their signature self-serve beer taps on display at Woodies Flat in Old Town and FatPour Tap Works on Division. "We get groups calling ahead weeks in advance to reserve the beer tables. They are great for small and large groups. People love being their own bartender," said Erik Baylis, a partner with Big Onion Tavern Group. "We've partnered with PourMyBeer at a number of properties, and their system is by far the most reliable and easy to use."
Between the décor and rotating craft beer montage, it might camouflagee the eclectic menu- with items ranging from foot-long grilled cheeses to custom made tacos. We caught up with Brad Pirrello, a Director for BOTG, and he commented on their diverse menu, "We wanted to put a twist on the traditional menu items and introduce some new dishes that you can't get anywhere else. The response has been great and our staff is well versed on what beers go best with each menu item."
The best way to describe the second floor of Hopsmith is an outdoor experience…indoors. With sunroofs galore, there is no shortage of natural light. The light helps illuminate the converted 1965 Volkswagen van that is now a 20-tap beer wall hovering over the second floor bar. There are also two self-serve beer tables available on each floor. The owner of PourMyBeer.com, Josh Goodman added, "We love working with the guys at Hopsmith and Big Onion. They provide their customers a great product and with all the projects we've done with them, their team is as familiar with our self-serve beer systems as we are." With only a few months since they opened their doors, the warm weather is sure to increase the traffic to their location on west Division.
http://www.pourmybeer.com is an Innovative Tap Solutions Company. The company was formed in 2009 and made the first commercial mobile self-serve beer tables in the US. It also sells and distributes fixed beer walls, mobile beer walls, fixed draft beer tables and mobile draft self-serve tables. All mobile equipment is made in the USA. Contact sales (at) pourmybeer (dot) com or call 267-323-1100