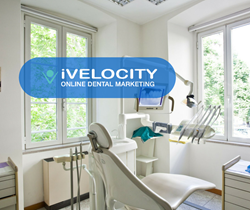 Helping Dentists Marketing and Manage Their Practices!
Denver, CO (PRWEB) April 16, 2015
SEO or Search Engine Optimization has been used for several years by most dental practices. However, one of the most common frustrations that dentists have with online marketing is the quality of new patient that it generates for their practice. A NEW Marketing system specifically designed for General and Specialist dentists who want to focus their practice on Implant and Cosmetic Dentistry has been created by Ivelocity Dental Marketing. This new system brings a combination of social media marketing, pay-per-click advertising, email, and video to create a marketing system that both educates and connections with new patients like never before.
This new dental implant marketing system is designed to be completely automated and take all the work off of the dental owner and allow them to focus on delivering the best patient care possible. This system targets patients who already desire implant or cosmetic services and then educates them about the uniqueness of the dentist's clinic and what sets them apart from the competition.
To learn more about how you Ivelocity Dental Marketing can help grow your practice with more implant and cosmetic services, call them today. 1-800-450-2819.
About Ivelocity Marketing:
Ivelocity Dental Marketing has been serving doctors around the country for the last 4 years. With over a 100 clients served, their boutique marketing agency helps to not only market dental practices, but helps consult them in areas of front desk communication and telephone scheduling. Most dentists see a 10 to 1 ROI for every dollar they spend with Ivelocity.