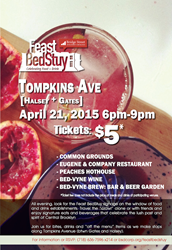 Brooklyn, NY (PRWEB) April 16, 2015
Bridge Street Development Corporation has announced the return of Feast BedStuy, Tuesday, April 21, 2015, 6-9pm in Central Brooklyn. The event will feature a foodie crawl highlighting signature eats and beverages from neighborhood favorites along Tompkins Avenue, between Halsey Street and Gates Avenue.
The crawl begins at Common Grounds Coffee House and flows to Eugene & Company. It will continue on to Peaches Hothouse and culminate at Bed-Vyne's Wine and Brew locations with a special wine tasting and after-hour happy hour specials.
For $5, foodies can join the official tour and receive a "passport" for special discounts and access to off-the-menu items.
Venue specials include:
• "Eat Your Wine" sorbet offered by Common Grounds
• Spring Prix Fixe dinner at Eugene & Company
• Signature cocktail and black lager at Peaches Hothouse
• Wine Tasting at Bed-Vyne Wine
• Happy Hour After-Hours Special
The Tompkins Avenue crawl is the third in a series designed to highlight Bedford-Stuyvesant as a culinary destination, and to celebrate the lush spirit and unique characteristics of the historic neighborhood. Another crawl is scheduled next month, highlighting Malcolm X Boulevard.
"Feast BedStuy will help to support and promote the local establishments along Tompkins Avenue," said Yvette Buckner, Director of Civic Engagement for Bridge Street. "By leveraging the diversity and concentration of unique food and beverages, we will demonstrate that there are many high-quality cuisine options for residents located right in their own backyard. Our hope is that they will visit them again and again."
The Tompkins Avenue edition of Bridge Street's "Feast BedStuy" takes place April 21, 2015 from 6-9pm. Look for the official Feast BedStuy sticker on store windows to join the crawl or to enjoy Feast BedStuy at your own pace.
For a complete list of participating venues or to purchase tickets, visit http://www.bsdcorp.org/feastbedstuy.
###
About Bridge Street Development Corporation
Bridge Street Development Corporation (BSDC) is a faith-based, 501(c)(3) not-for-profit organization whose mission is to build partnerships with businesses, government and other community stakeholders to provide civic and economic opportunities to the residents of Central Brooklyn.
Bridge Street's vision is to preserve Bedford-Stuyvesant and the adjacent neighborhoods of central and eastern Brooklyn as a desirable neighborhood for raising families, owning businesses and taking part in rich cultural, spiritual and recreational opportunities. Their motto, "Building on Community Strength," describes the core belief that the most effective way to improve a community is to develop and promote local assets, including people, homes, businesses and organizations.