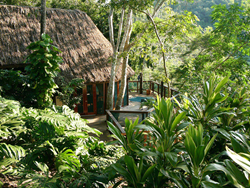 We want to show people that a Belizean summer vacation is a great experience that doesn't have to cost more than a typical summer holiday in the US or Canada
San Ignacio, Belize (PRWEB) April 18, 2015
The Lodge at Chaa Creek has just announced significant discounts on three all-inclusive Belize summer vacation packages that cater to couples, families, and individual travellers.
As Lea Itzab, Chaa Creek's marketing officer explained, it's all part of a campaign to spread the word that Belizean summer vacations can be a viable alternative to spending a summer break in North America.
"We want to show people that a Belizean summer vacation is a great experience that doesn't have to cost more than a typical summer holiday in the US or Canada," she said.
Ms Itzab explained that guests taking advantage of any of the three selected all-inclusive Belize vacation packages will receive discounts including a free night on a five night booking.
"Guests booking for four nights will receive a fifth night free, and that's on top of the discounts. When you consider what each package includes, this represents significant savings," she said.
Every Chaa Creek all-inclusive Belize vacation package includes accommodation, all meals, activities, transfers, taxes and gratuities, as well as access to all amenities within Chaa Creek's 365-acre private nature reserve, including the Mariposa restaurant, Jungle Lounge, an infinity pool and internationally recognised Spa, Belize Natural History Museum, butterfly farm, Maya medicinal plant trail and Maya organic farm, stables, canoe fleet, conference centre and more.
"We've been called Belize's "Destination within a destination" because so many people have enjoyed a complete Belizean vacation right here," Ms Itzab said.
"By making the most of the infrastructure and networks we've developed over the last 30 years, and then bundling everything guests would want for a complete holiday that caters to their individual interests, we're able to really bring costs down," she explained.
Ms Itzab said that many families, couples, groups and individuals will find that a summer vacation in Belize may cost no more, and sometimes even less, than a holiday in their home countries.
"We understand how things add up during a summer vacation. With our all-inclusive packages there's absolutely nothing else to pay, except for alcohol and specialty drinks. That means no budget blow-outs or nasty credit card surprises when you get home," she said.
Ms Itzab explained that the three selected summer vacation packages cover a range of popular interests.
"Couples love our Belize Honeymoon package. Even if you're not actually on a honeymoon, it's a luxurious, intimate getaway guaranteed to bring lovers closer together and create memories they'll cherish forever.
"The Inland Expedition package is an exciting way for families to experience Belize's jungles, rivers, ancient Maya temples and exotic wildlife in an atmosphere of casual luxury.
"And this year, in recognition of our many American friends, we're offering the http:// Belize Adventure package as an exciting new way to celebrate the US Independence Day. It's a 4th of July vacation that can be enjoyed throughout June, July and August," she said.
By offering the selected vacation packages with such savings, Chaa Creek hopes to expose a greater number of the travelling public to the advantages of a Belizean summer vacation, Ms Itzab explained.
"There are many advantages to enjoying a summer vacation in Belize. It's less crowded and things move at a more leisurely pace compared to the main attractions, theme parks, beaches and even national parks up north, when so many other people are taking their summer vacations.
"Also, people don't realise how pleasant the summer weather is in Belize. The Caribbean Sea and the vast tracts of wilderness provide a cooling effect, so the average year round temperature remains fairly steady at around 84° F (29°C). People are often surprised that when it's sweltering up north, the weather is actually quite pleasant down here.
"We've created inducements to get more people to come down this year and see what makes summer in Belize so special. We're gambling that, as it has done in the past, positive word of mouth will then spread the word.
"It's a classic win-win situation for us and our guests," she added.
Ms Itzab said that travellers should inquire at their travel agents or contact Chaa Creek directly for further details and bookings.
The Lodge at Chaa Creek is a multi award winning eco resort set within a 365-acre private nature reserve along the banks of the Macal River in Belize.
ENDS