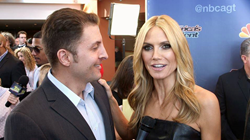 It is an exciting time for the show as our reach will now allow us to connect with so many people," said producer Madeline Giaquinto.
New York, NY (PRWEB) April 16, 2015
Celebrity interview show "Behind the Velvet Rope", hosted by Arthur Kade, will be covering the 2015 Tribeca Film Festival running from April 15 – April 26. The show, produced by New York-based production company M Squared Entertainment, has also entered into a distribution agreement with Zonzia Media, Inc. to produce content for the entertainment broadcast company.
"Behind the Velvet Rope" will now be streaming in over 48 million homes through VOD across Comcast, Verizon, and Dish Networks through Zonzia's network. The show will also be available in over 1.2 million hotel rooms in the U.S. The show will be syndicated digitally across the web, with a reach of 5 million impressions per day. It will continue to focus on both long-form sit down discussions and red carpet celebrity interviews, giving fans access to their favorite movie, music, TV, sports, fashion and reality stars where they most want to consume this content: via digital platforms and social media.
In addition to providing daily coverage from the festival, "Behind the Velvet Rope" will also be providing 360 degree social media coverage including live tweeting and streaming from the carpets featuring exclusive pictures and video clips.
"Behind the Velvet Rope" previously covered the 2014 Tribeca Film Festival. The cultural event has become an annual staple in New York City that supports emerging and established filmmakers.
"Founded by Robert De Niro, Jane Rosenthal, and Craig Hatkoff in 2001, following the attacks on the World Trade Center, to spur the economic and cultural revitalization of the lower Manhattan district through an annual celebration of film, music, and culture, the Festival brings the industry and community together around storytelling.
The Tribeca Film Festival has screened more than 1,600 films from more than 80 countries since its first edition in 2002. Since inception, it has attracted an international audience of more than 4.9 million attendees, and has generated an estimated $900 million in economic activity for New York City."
-Tribeca Film Festival
"We're excited to be the exclusive distribution partner for 'Behind the Velvet Rope'," said Lynnwood Bibbens, President and CSO, Zonzia. "The Tribeca Film Festival is a major cultural event and now viewers will be able to see all the hottest movies, music, TV, and much more across digital platforms."
"The Tribeca Film Festival has become a preeminent festival in our New York community that we are honored to be covering. It is an exciting time for the show as our reach will now allow us to connect with so many people," said producer Madeline Giaquinto.
Executive Producer Tom Molen states, "Technology has afforded us the unique opportunity to showcase events in a way that they have never been covered before. 'Behind the Velvet Rope' with the help of distribution partner Zonzia Media, Inc. will deliver a variety of compelling, innovative entertainment across every platform."
About Zonzia Media, Inc.:
Zonzia is an over-the-top (OTT) streaming media company that delivers entertainment to consumers, hungry for fresh and original content. Zonzia distributes original programming, TV shows, movies and documentaries, independent and short films, and live events through its hybrid channel, accessed via subscription video-on-demand (SVOD) for only $4.99 per month. Zonzia works with the top production companies, networks and studios globally, as well as writers, producers, directors and a-list talent to bring engaging entertainment directly to viewers.
Zonzia has secured VOD carriage across Comcast, Dish Network and Verizon reaching more than 48 Million homes, and the Zonzia channel is also available in over 1.2 Million Hotel rooms across the U.S., the largest closed circuit hotel network. The channel is accessible over connected devices via Zonzia's SVOD. For more information, please visit http://www.zonzia.com.
About M Squared Entertainment:
M Squared Entertainment is a digital New Media company founded by Tom Molen with a singular mission: to leverage and maximize the new paradigm in content creation, distribution and social audience intelligence to create value for our clients. M Squared has three areas of expertise: original short and long form video production, tactical social media consultancy, and audience/consumer research. Led by a 15-year industry veteran, our approach focuses on modern, innovative techniques including producing ethnographic insight films, consumer documentaries, social listening and the use of big data social media tools.
For more information visit: http://www.behindthevelvetrope.tv