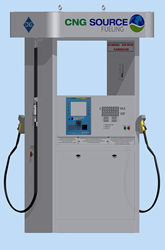 Our company will now be offering one of the best CNG Dispenser available in the market
(PRWEB) April 21, 2015
CNG Source, a leading provider of compressed natural gas solutions for stations builders and commercial fleets, is launching a new line of dispensers branded TRIUMPH. These innovative dispensers harness the latest technologies to facilitate user experience and increase efficiency.
TRIUMPH dispensers feature a number of advantages, including: Tank-sense technology, remote status and configuration, upgrade potential with different levels of add/on features, ultra high flow and a 10-inch display. Users benefit from on-screen information that shows among others, gallons dispensed, pressure at the hose and fill percentage. The product is already NTEP certified, with ANSI NGV 4.1 and the UL certification to be complemented later this year.
"We are proud of our latest development," said, Daniel Lubs, Vice President of Engineering and Operations. "Our company will now be offering one of the best CNG Dispenser available in the market."
The TRIUMPH dispenser is aimed at the top end of the market where dependability, performance and user experience are instrumental to success. In an increasingly educated market, improving user experience is quickly becoming an important priority for most competitive companies operating in the CNG fueling business.
CNG Source's state-of-the-art equipment is the culmination of many years of work, data gathering and user experience analysis. It completes CNG Source's portfolio of CNG equipment and solutions for the NGV segment.
This new equipment is compatible with most card readers and payment systems, as well as with most professional grade CNG setups. It will be offered in the US and Mexico as part of CNG Source's solutions, as well as worldwide through distributors specializing in high quality / low maintenance equipment for CNG Stations and commercial fleets.
ABOUT CNG SOURCE
A veteran company based in Indianapolis, CNG Source develops and manufactures game-changing equipment, as well as maximizes solutions for CNG station builders and commercial fleets. Offerings range from time-fill posts and CNG fuel dispensers to complete fueling solutions in-a-box. CNG Source also leads the industry in specialized CNG engineering and R&D services. Turnkey solutions for commercial fleets are purposely designed to evolve and grow along with expanding businesses. The company's experience, quality and service commitment are key contributors to its expansion beyond US borders. CNG Source, led by Purdue University mechanical engineer Doug Lubs, harnesses decades of experience to ensure future success.
For media inquiries, please contact Karim Bousfiha – PR(AT)cngsource.com – Tel: 1 844 FUEL CNG