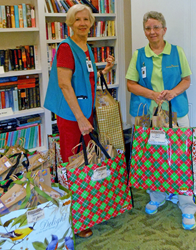 All of us aspire to live a long, productive life, and the volunteers often say we want to do all we can to ensure a positive experience for residents at Crestview, as we may live there someday. In effect, we are paying it forward.
BRYAN, Texas (PRWEB) April 18, 2015
The volunteers who donated more than 6,600 hours in services throughout 2014—their 50th Anniversary year—have entered the next 50 years more dedicated to the Crestview Retirement Community than ever. The week of April 12 to 18 is National Volunteer Appreciation Week, and the residents and staff at Crestview, a member of the Methodist Retirement Communities, know full well the value of the time and treasure donated each year by The Crestview Volunteers.
The group includes nearly 90 active volunteers, along with 18 inactive but supporting members. Operating as a non-profit organization independent of the not-for-profit Crestview community, the group runs the community's Jane Lee Gift Shop (named after a long-time member and strong supporter) and organizes and sponsors a variety of events and activities that benefit the more than 300 senior citizens who live in the Crestview community.
"The life-enriching activities provided by Crestview volunteers would be extremely difficult to provide if only staff were available," said Matthew Currie, the community's executive director.
Monthly birthday parties, special seasonal gift-giving days and bingo games are among the many events that provide life-enriching social and recognition opportunities. In 2014 alone, the volunteers donated time valued at $148,836 to the Crestview Retirement Community.
"Our members enjoy working with the Crestview residents and the camaraderie," said Irene Keating, president of the organization. "The whole purpose is to provide services and activities that enrich the lives of the residents."
The organization has also provided gifts to the community over the years, including a piano, patient lifts and equipment to aid in hair washing for residents confined to wheelchairs.
The Crestview Volunteers hosts an annual style show fundraiser to fund its services, and many members chip in from their own finances to help provide giveaway items to enhance resident events and fundraisers. The volunteers also provide food and arrange entertainment at many of the events they host.
"All of us aspire to live a long, productive life, and the volunteers often say we want to do all we can to ensure a positive experience for residents at Crestview, as we may live there someday," said Mrs. Keating. "In effect, we are paying it forward."
# # #