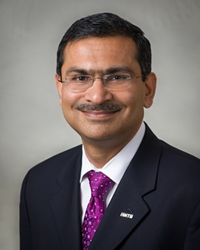 I'm honored to represent HNTB and its clients, and continue our firm's involvement with TRIP ...
KANSAS CITY, Mo. (PRWEB) April 17, 2015
Ananth Prasad, PE, HNTB national transportation practice leader and senior vice president, has been appointed to the board of TRIP. The organization's mission is to build public and legislative support for improving our nation's surface transportation infrastructure. HNTB has been represented on the board of TRIP since the 1980s.
"I'm honored to represent HNTB and its clients, and continue our firm's involvement with TRIP to promote transportation policies that help relieve traffic congestion and its impact on air quality, improve road and bridge conditions, make surface travel safer, and enhance economic productivity," Prasad said.
Founded in 1971, TRIP is a private nonprofit organization that researches, evaluates and distributes economic and technical data on surface transportation issues. TRIP is sponsored by insurance companies, equipment manufacturers, distributors and suppliers, businesses involved in highway and transit engineering and construction, labor unions, and organizations concerned with an efficient and safe surface transportation network that promotes economic development and quality of life.
Prior to joining HNTB in January 2015, Prasad served in the Florida Department of Transportation's top position, following his four-year appointment by Gov. Rick Scott. He has more than 24 years of experience in the transportation industry, including 22 years with FDOT, where he previously held the positions of chief engineer and director of construction. He was responsible for implementing various innovative contracting techniques, including public-private partnerships, and he has been a proponent of advanced technologies to improve safety and mobility.
Engineering News-Record, the top trade magazine for the transportation construction industry, named Prasad one of the Top 25 Newsmakers for 2013 and recognized FDOT as the Southeast Owner of the Year.
In addition to TRIP, Prasad is active in ITS America, American Association of State Highway and Transportation Officials, Transportation Research Board, Florida Engineering Society and Design-Build Institute of America.
About HNTB
HNTB Corporation is an employee-owned infrastructure solutions firm serving public and private owners and contractors. With more than a century of service, HNTB understands the life cycle of infrastructure and addresses clients' most complex technical, financial and operational challenges. Professionals nationwide deliver a full range of infrastructure-related services, including award-winning planning, design, program management and construction management. For more information, visit http://www.hntb.com.