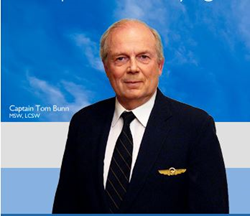 As humans, we too have an emotional backup plan to control our sensations as events occur.
New York, NY (PRWEB) April 17, 2015
Real or imagined, there is a genuine fear many travelers have when flying. Whether it's the lack of "control," recent events replayed over and over on network television, or a general sense of helplessness, there is no disputing the fact that for many travelers, flying is a hair-raising and uncomfortable experience. But Tom Bunn, a retired airline Captain, licensed therapist, and author of SOAR, a comprehensive course for managing the fear of flying, believes the fear and uncertainties of flying can be managed with simple mind exercises…or introducing yourself to the pilot.
During his one-on-one conversation with ExpertFlyer, Captain Bunn takes readers on a fascinating exploration of the mind and discusses how, with a few tips and a little practice, we can manage our fear of flying and actually look forward to boarding the plane and enjoying the flight.
According to Bunn, safety in aviation depends on two things: maintaining control so problems don't develop; and always having a backup plan if problems do arise. "For example, in the U.S., someone realized that what happened on Germanwings title* was possible and developed a protocol to prevent it by requiring two people in the cockpit at all times," Captain Bunn explained. "As humans, we too have an emotional backup plan to control our sensations as events occur. We just need to understand what they are and how we can implement them when we need to."
*NPR ("Airlines Worldwide Rush to Adopt '2 Person' Cockpit Rule") – March 27, 2015
Bunn explained that a part of the brain, known as the amygdala, releases stress hormones when it senses anything non-routine or unexpected that raises our anxiety, which translates to increased heart rate and adrenalin, among other things. "Anticipatory anxiety is caused by stress hormones released purely due to imagination, such as imagination of the plane going down. 'Flight anxiety' is caused when stress hormones are released by thoughts of being up high, and by sounds and motions of the plane during flight."
"A number of stories published about the fear of flying incorporate a variety of statistics illustrating how safe air travel really is. For example, travelers rarely here that approximately 100,000 commercial flights take-off and land safely everyday – they need to be reminded of that," said Chris Lopinto, president and co-founder of ExpertFlyer.com. "What makes Captain Bunn's interview so interesting is it explores the psychological factors with the fear of flying and provides real insight about some of the things we can do for ourselves to make air travel a less stressful, and even enjoyable, experience."
To read the entire interview with Captain Tom Bunn, please visit ExpertFlyer's blog.
About Captain Tom Bunn
Captain Tom Bunn, an airline captain and licensed therapist, is President and founder of SOAR, Inc. He has helped over 5,000 people overcome fear of flying. Captain Bunn was part of the first fear of flying program, which was started at Pan Am in 1975. He founded SOAR in 1982; and to offer the most effective help possible, he completed graduate school to become a therapist. He spent five additional years in training at psychological institutes, finally developing a therapy that has made it possible for everyone to fly.
About ExpertFlyer.com
Each month, ExpertFlyer's One-on-One blog goes face-to-face with the travel industry's leading decision makers to discuss and address topics relevant to many of today's business and frequent travelers.
ExpertFlyer.com was conceived and created by an eclectic team consisting of a veteran elite tier frequent flyer, an airline captain and corporate travel manager, and information technology professionals to deliver a 24/7 real time powerful air travel information service. The company provides its subscribers and corporate travel managers alike with a complete, concise and efficient way to access the ever-changing details of worldwide air travel information. For more information, please visit expertflyer.com.
Stuck in the middle seat again? Download the free Seat Alerts app from ExpertFlyer and get the window or aisle seat without hassle or frustration.
# # #