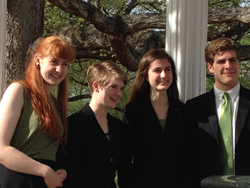 "This team is not just committed to prepare for a competition but to learn to lead more ethical lives through their study of ethics and philosophy. They are studying ethics as a way of understanding and living in the world." Dr Luana Uluave
(PRWEB) April 17, 2015
On the weekend of April 10th, the Waterford School Ethics Bowl team competed in the National High School Ethics Bowl championship at the University of North Carolina, Chapel Hill. The Waterford team defeated Phillips-Exeter in the final round. All told, the Waterford team was undefeated in 7 rounds. Three judges score each round, and of the twenty-one judges total, Waterford won nineteen judges, tied for two judges, and lost zero judges over the two-day competition.
The Waterford team is comprised of juniors Sage Heuston and Olivia Robson, and seniors Caleb South and Eliza Wells. They were recognized repeatedly by judges, observers, and competition coordinators for their outstanding preparation, knowledge, and performance. The team is coached and mentored by Dr. Luana Uluave, who started this program at Waterford School only three years ago.
Nationwide, more than 1,600 students from 232 schools participated in the event. Organizers anticipate more than 2,200 participants next year. Twenty-two regional champions from the U.S. and Canada were invited to this national competition. The National High School Ethics Bowl was hosted by The Parr Center for Ethics; learn more on the NHSEB website: http://nhseb.unc.edu/
The Waterford team was provided generous support, making it possible for the team to compete at the national tournament, by the Utah Valley University Center for the Study of Ethics (https://www.uvu.edu/ethics) and the UVU Department of Philosophy and Humanities (https://www.uvu.edu/philhum). The Waterford School also wishes to recognize and thank Karen Mizell, a UVU professor of philosophy and the director of the Utah High School Ethics Bowl.
The Waterford School is Utah's premier private, liberal arts college-preparatory school for students in preschool through grade 12. The school offers a comprehensive liberal arts curriculum including visual art, photography, music, theater, and dance. For more information, visit http://www.waterfordschool.org