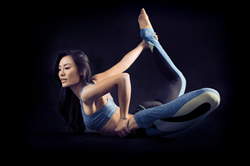 (PRWEB) April 28, 2015
BaliniSports is set to launch a brand new line of eco-friendly yoga apparel on Earth Day, April 22nd, 2015. The Gemini Collection heralds the brand's switch to producing clothing in the United States. Pieces from the upcoming collection will also come in new biodegradable bags.
BaliniSports is known for producing environmentally friendly performance gear that is made without harsh dyes or toxic materials. Their apparel features a mix of moisture wicking technology and four-way stretch technology that is designed to facilitate yoga poses and allow women to feel confident.
"We couldn't be more pleased to share our brand new collection with the world," said BaliniSports founder, Ada Hung. "We chose Earth Day to launch our new line because this collection embodies our full commitment to producing the best apparel possible without wasting water or harming the planet."
The brand has just announced that the much-anticipated Gemini Collection has passed through sewing and inspection and is now being packaged and organized for distribution to customers. The new collection features yoga pants, shorts, bras, and tank tops in a variety of colors and patterns. The release of the collection will also mark the debut of brand new bra attachments that are designed to hook onto accompanying yoga bras. The concept is designed to give women an easy way to enjoy extra coverage during or following gym and yoga sessions.
"In addition to great performance and stylishness, the Gemini Collection is also all about positive energy," said Hung. "I designed a logo that is based off of a mantra of good luck and positive energy that was passed on to me by my yoga guru. My friends and I meditated just a few feet from the production line while the Gemini Collection was being created. We used a mantra and positive vibrations to put forth the simple intention of sending peace, happiness, and love to all who wear pieces from BaliniSports."
The Gemini Collection from BaliniSports will launch on Earth Day 2015. Pieces can be purchased on BaliniSports.com beginning on April 22nd.