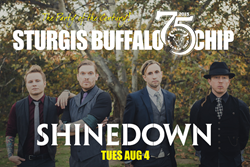 We continue to add the best rock bands in the world to the main stage schedule, and we aren't done yet
Sturgis, SD (PRWEB) April 16, 2015
Folks making plans to attend the Sturgis Rally's 75th anniversary celebration have been eagerly awaiting word of more world-class Buffalo Chip entertainment, with just 105 days until the first note reverberates through the amphitheater at the world's largest motorcycle and music festival. Today these fans can add two more superstar rock bands to their calendars as the Sturgis Buffalo Chip® has added Shinedown and Social Distortion to its ever-expanding 2015 roster.
On Tuesday, Aug. 4, Shinedown will bring its arsenal of blockbuster alternative rock hits to the Buffalo Chip main stage, prior to a performance from Southern rock legends Lynyrd Skynyrd. The band's rock has been known to have guests at its live shows jumping, dancing and shouting to chart-topping hits such as "45," "The Sound of Madness," "Save Me," and "Second Chance."
Social Distortion is set to make its Sturgis Rally debut on the Buffalo Chip main stage on Wednesday, Aug. 5, prior to a performance from John Fogerty. The American rockabilly punk band has been a consistent favorite of rockers for nearly four decades and carries a deep cult following among "Gen X-ers." Hits like "Ball and Chain" and "Story of my Life" will bring Chip fans the hard-hitting rock they have been asking for, as Social Distortion is consistently on the Chip's list of most requested performers.
"This year is going to be the best party yet," said Rod Woodruff, president of the Sturgis Buffalo Chip. "We continue to add the best rock bands in the world to the main stage schedule, and we aren't done yet. We have many more to announce, and some are sure to surprise our fans."
In addition to world-class main stage acts, many other performers will entertain crowds throughout the festival on the Buffalo Chip's six showcase stages. The roster of bands confirmed for these stages now includes the Seattle-based blues-rock band Colossal Boss.
The concert series during the Largest Music Festival in Motorcycling™ will begin on Friday, July 31 and run through Saturday, Aug. 8, 2015. So far the Buffalo Chip has announced Five Finger Death Punch, Brantley Gilbert, Godsmack, Lynyrd Skynyrd, John Fogerty, Styx and Def Leppard. The campground will open for camping on July 3, 2015 with live music starting on showcase stages beginning July 25.
About The Sturgis Buffalo Chip
The Sturgis Buffalo Chip is the Largest Music Festival in Motorcycling™. It is the world's first and leading entertainment destination for the motorcycle enthusiast. Established in 1981, the venue's high-profile, nine-day festival, known as The Best Party Anywhere™, remains one of the world's most televised and longest running independent music festivals. Buffalo Chip guests have the freedom to party and play while experiencing world-class concerts, outrageous events, moving freedom celebrations, thrilling PowerSports and more. Located three miles east of Sturgis, SD on 600 creek-fed acres, it offers cabins, RVs, camping, a swimming hole, bars, mouth-watering food, showers, paved roads, and more to visitors traveling from all corners of the world. The Chip's concerts are free with camping. More details are available at http://www.BuffaloChip.com.