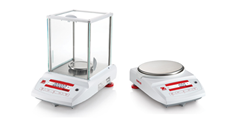 "Best-in-class measurement at economical prices"
Parsippany, NJ (PRWEB) May 18, 2015
OHAUS Corporation, a leading manufacturer and marketer of high quality balances and scales, recently launched the Pioneer PA+ under their Ingenious Portfolio of quality-driven laboratory instruments.
For over a century, the OHAUS brand has been synonymous for best-in-class measurement at value-driven pricing. With a proven track record of accuracy and reliability in laboratories throughout the world, the OHAUS Pioneer PA+ will continue to elevate the OHAUS portfolio of analytical and precision balances to a whole new level.
The Pioneer PA+ boasts a wide array of product features that allow for highly functional and accurate weighing. Key product enhancements like internal and external calibration help ensure accurate weighing results, while additional weighing applications like Dynamic Weighing and Density Determination accommodate more laboratory weighing needs.
Full details on these new features can be found online now at http://www.ohaus.com/pioneer. Contact your OHAUS representative for additional information or to place your first order today!
About OHAUS Corporation
Headquartered in Parsippany, N.J., OHAUS Corporation manufactures an extensive line of high-precision electronic and mechanical balances and scales that meet the demands of virtually any weighing need. The company is a global leader in the laboratory, industrial, and education channels as well as a host of specialty markets, including the food preparation, pharmacy and jewelry industries. An ISO 9001:2008 manufacturer, OHAUS products are precise, reliable and affordable, and are backed by industry-leading customer support. For additional information, contact OHAUS Corporation at 973-377-9000, or visit the http://www.OHAUS.com.