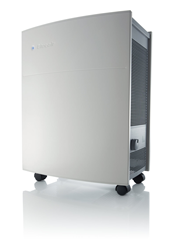 Now you can protect you and your family from numerous allergens & other contaminants all while protecting the environment and your wallet. The ECO10 is an amazingly powerful air purifier that uses only 10 watts of energy even while running on high.
Peoria, IL (PRWEB) April 22, 2015
USAirPurifiers.com has announced a price reduction of $100 on the ECO 10 air purifier to coincide with Earth Day this coming Wednesday. The unit, produced by Blueair, will be reduced from its current price of $699 to $599 for this promotional special.
The Blueair ECO 10 is a highly energy efficient home air purifier capable of effectively removing pollen, dander, and other common allergens from a 220 square foot space. The unit is designed to operate at optimal efficiency in order to reduce its running cost while still providing unmatched air purification capacity. Making use of a HEPA filter, the ECO 10 offers near-silent operation, along with such convenient features as multiple fan speed settings, a filter change indicator light, and an easy to change filtration system, all packaged into a galvanized steel frame for optimum durability. Even on high, the unit only uses 10 watts of energy.
With allergy season now in full swing, it is the perfect time to purchase a home air purification system to remove unwanted allergens. This special Earth Day promotion from US Air Purifiers, a small Illinois based company specializing in the finest air purifiers on the market, is intended to help customers get the air purifier they need, without breaking the bank.
About the Business:
Barb and Dick Lulay's customers are passionate about naturally reducing their risk of disease. Their customer service and product expertise make shopping with http://www.USAirPurifiers.com and http://www.OttersDream.com an ideal experience. With a full line of natural products such as air purifiers, natural supplements, green cleaners, weight management and paraben free skin care, families find they can conveniently do their household shopping online with home delivery. As successful business owners, the Lulays offer a mentoring program for other aspiring entrepreneurs. They present exceptional marketing tools and a training program that shows how to generate immediate income as well as long term passive income.