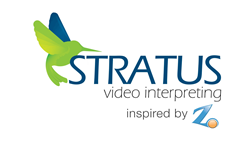 Even if patients say they understand 'some' English, it's important for medical discussions and post-visit care instructions to be conducted in the patient's native language; otherwise, there is too great a potential for misunderstanding and errors.
Clearwater, FL (PRWEB) April 16, 2015
According to U.S. Census Bureau statistics, the U.S. Hispanic population increased by 243% from 1980 to 2010—climbing to nearly 51 million (1)—with over 37.5 million of those Latinos speaking Spanish at home. (2) Meanwhile, the proportion of Latino physicians dropped by 22% over the same period; (1) and with a projected shortage of up to 90,000 physicians within the next 10 years, (3) patients with limited English proficiency (LEP) are likely to face a growing language gap. Until the number of Latino doctors catches up with the burgeoning Hispanic population, Stratus Video Interpreting advises healthcare facilities to explore video remote interpreting services as a way to overcome language barriers.
Researchers at the University of California, Los Angeles (UCLA) found that while the proportion of non-Hispanic white (NHW) physicians per 100,000 NHW population rose from 211 to 315 between 1980 and 2010, the proportion of Latino physicians per 100,000 Hispanics dropped from 135 to 105 during that time. The gap is even more pronounced in certain states with large Hispanic populations; Texas has only 78 Latino doctors per 100,000 Hispanics, while California has just 50—a figure that is 87% lower than the state's NHW physician rate. (1) At the same time, U.S. doctor shortages are resulting in longer wait times, with patients in many cities having to wait two weeks or more for an appointment with a family physician. (4)
"The growing doctor shortage and relatively low proportion of Latino physicians have made it increasingly difficult for LEP patients to obtain treatment from healthcare providers who speak their language," said David Fetterolf, President of Stratus Video Interpreting. "They may have to wait weeks for an appointment with a Spanish-speaking doctor; so in time-sensitive cases, they often receive treatment from someone who doesn't speak their language. This has the potential of creating confusion or miscommunication between doctors and patients, which can have serious repercussions on patients' health and safety."
As reported in the Los Angeles Times, a 2009 focus group study found that "most Spanish-speaking patients at Kaiser Permanente Southern California said that they had English-speaking doctors and that they understood 'approximately half' of what their doctors told them. Many worried about misinterpreting physician instructions." (5) Dr. Gloria Sánchez—physician, professor and lead author of the UCLA report—said that she often sees patients who don't seem to have understood what English-speaking healthcare providers have told them: "They've been to the emergency room multiple times. Whatever was said, it's not getting across." (5)
While the UCLA study underscores the critical need for more Spanish-speaking physicians—a problem that is likely to escalate in coming years—Hispanic LEP patients face the ongoing challenge of obtaining healthcare treatment in their native language. To help healthcare providers overcome these communication barriers, Stratus offers on demand video remote interpreting services that healthcare facilities can use to supplement their in house medical interpreters and bilingual staff.
"Even if patients say they understand 'some' English, it's important for medical discussions and post-visit care instructions to be conducted in the patient's native language; otherwise, there is too great a potential for misunderstanding and errors," said Fetterolf. "Our healthcare interpretation services allow physicians and other staff to connect to a highly trained, certified medical interpreter within 30 seconds. This enables Spanish-speaking patients to receive care from the first available physician regardless of language, and it's an ideal solution for emergency cases when time is of the essence. Until more Spanish-speaking doctors are available to treat the Latino population, video remote interpreting remains the best option to ensure a high standard of care for LEP patients."
For more information on Stratus and its on demand video interpreting services, including medical interpretation for Spanish-speaking patients and others with limited English proficiency, visit http://www.stratusvideo.com.
About Stratus Video Interpreting:
Stratus Video Interpreting provides on demand interpreter services by using technology to connect clients with interpreters in over 175 spoken and signed languages in under 30 seconds. Stratus' cloud-based video solution delivers an array of unique features to virtually any Internet-enabled PC, Mac, smartphone or tablet. Stratus clients use the technology to connect with their own staff interpreters, as well as with Stratus interpreters who have years of healthcare and courtroom experience and hold multiple certifications. With Stratus, state-of-the-art video remote interpreting is made available with virtually no capital investment. Stratus averages 65,000 video calls a day, up from 40,000 in mid-2013. Stratus Video is the sister company of The Z® (CSDVRS, LLC, dba ZVRS), which was established in 2006 and developed by and for deaf and hard-of-hearing individuals, setting the industry standard as the nation's premier Video Relay Service Provider and the first VRS Provider to receive a five-year certification from the FCC. In 2014, Stratus was recognized as one of the fastest-growing privately held companies, ranking #3,827 on Inc. magazine's Inc. 5000 list. For more information, visit http://www.stratusvideo.com.
1. Sánchez, Gloria; Theresa Nevarez; et al. "Latino Physicians in the United States, 1980–2010: A Thirty-Year Overview From the Censuses"; Academic Medicine; July 1, 2009; published online ahead of print: January 27, 2015. journals.lww.com/academicmedicine/Citation/publishahead/Latino_Physicians_in_the_United_States,_1980_2010_.98866.aspx.
2. Ryan, Camille and U.S. Census Bureau. Language Use in the United States: 2011; August 2013. census.gov/prod/2013pubs/acs-22.pdf.
3. AAMC (Association of American Medical Colleges). "New Physician Workforce Projections Show the Doctor Shortage Remains Significant"; press release issued March 3, 2015. aamc.org/newsroom/newsreleases/426166/20150303.html.
4. Bernstein, Lenny. "U.S. Faces 90,000 Doctor Shortage by 2025, Medical School Association Warns"; The Washington Post; March 3, 2015. washingtonpost.com/news/to-your-health/wp/2015/03/03/u-s-faces-90000-doctor-shortage-by-2025-medical-school-association-warns/.
5. Brown, Eryn. "Number of Latino Doctors Isn't Keeping Pace With Population, Study Says"; LA Times; February 19, 2015. latimes.com/local/california/la-me-latino-doctors-20150220-story.html.