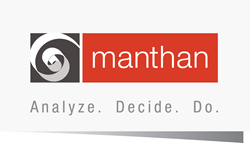 Phoenix, AZ (PRWEB) April 20, 2015
Manthan, the global leader in analytics solutions for Consumer Packaged Goods (CPG) companies and their retail partners, today announced the industry's most complete, easy to use and fastest to implement Demand Signal Management (DSM) solution. DSM from Manthan empowers CPG manufacturers to win today's fiercely competitive demand battle and ignite profitable growth by creating actionable market insights that activate the shopper's journey.
DSM from Manthan is a powerful integrated analytics system that creates a single "point-of-truth" about the shopper. As the most complete DSM solution available, Demand Signal Management from Manthan integrates and synthesizes multiple, disparate data sources – including the integration of shopper insights – to drive actionable insights faster across the CPG organization.
"CPG manufacturers today are faced with unprecedented complexity driven by the explosion of data, growing competitive pressures, and significantly greater shopper control," said Kirk W. Wheeler, Executive VP and General Manager of Manthan's Global CPG Practice. "To win and grow in this constantly changing environment, CPG companies need information and insights to drive faster decisions and better execution of any growth strategy. Demand Signal Management from Manthan delivers on these urgent needs and more."
Wheeler continued: "As the only DSM solution that integrates vital shopper data, Manthan DSM puts actionable shopper, market and logistic insights easily and quickly into the hands of the frontline CPG functions who need them the most. The other DSM offerings on the market are predominantly aimed at supply chain solutions. By contrast, DSM from Manthan is uniquely focused on shopper insights and market place activation, providing true demand analysis of the numerous datasets that are now a fact of life in the digital age."
Manthan's Global CPG Practice recently joined together with CGT Magazine to conduct a national survey on how CPG executives are using analytics-driven technologies like DSM to drive shopper insights and drive growth. More than 50% of the CPG executives responding to the survey said they are making progress with big data, and over 80% believe a "single source of truth" about their shoppers is a strategic advantage. However, only 10% of respondents had deployed a capability such as DSM to drive data to insights to action. More than one-third of CPG companies cited organizational structure for not implementing DSM while 24% mentioned cost. In the next 24 months, 63% of those surveyed plan to evaluate DSM platforms.
Speed to Value and ROI, and Easy to Use
Manthan's highly flexible DSM solution can be up and running in less than 12 weeks, giving CPG marketers the fastest time to shopper insights, activation and ROI in the industry. Equally important, the DSM applications from Manthan are designed so even average business users can easily leverage them from any web connected device. Manthan DSM offers a "Lego" like approach, allowing CPG organizations to start small on the cloud and expand by building more assets as they reap the shopper activation and growth-building benefits that DSM offers.
Manthan's DSM solution collects and synthesizes information from multiple, disparate sources – including unstructured data – to create a powerful integrated analytics platform that can drive cross-organizational actionable insights that improve and accelerate CPG decisions making. The multiple data sources that Manthan's cloud-based DSM solution manages include information from retail customers, distributors, market research, internal data, social media and uniquely, shopper data.
DSM from Manthan is built on four essential value streams that enable CPG manufacturers to grow and succeed by uncovering profitable new opportunities and improving ROI across all marketing spend:
1. Understand: By making sense of big data, developing cross channel insights and improving sales and campaign execution.
2. Streamline: By reducing out of stock (OOS), improving forecasting and driving a lower cost to serve model for CPG.
3. Collaborate: By collaborating better with retailer partners and optimizing relationship ROI.
4. Influence: By truly understanding the shopper, and playing a bigger role in, and activating, the shopper's journey.
The following are the key layers of the Manthan DSM technology architecture:

Data acquisition layer (data from retailers, distributors, market research, social media, shoppers)
Foundational layer (cleanse, homogenize, enrich and integrate data from multiple sources)
Analytics and visualization layer (tailorable modules for sales, shipment, pricing, new product launches, promotions, brand, shopper, category management and inventory)
Predictive analytics and insights layer (flexible modules for demand forecasting, OOS analytics and execution, trade spend analytics, shopper activation and pricing strategy and analytics)
Manthan will be present at CGT's Retail and Consumer Goods Analytics Summit to be held in Chicago on April 29th till May 1st, 2015 to showcase its entire portfolio of CPG Analytics solutions including Demand Signal Management.
------------------------------------------
About Manthan
Manthan serves as the Chief Analytics Officer for global consumer industries. Manthan's comprehensive portfolio of analytics products and services enable CPG manufacturers and their retail partners to understand and activate the shopper's journey. Architected with deep industry expertise, Manthan's solutions combine advanced predictive analytics, actionable insights and unmatched shopper knowledge to help customers identify and drive incremental growth opportunities. Manthan has provided its business-building analytics solutions to several retail and CPG organizations. Visit Manthan at http://www.Manthan.com/cpg-solutions