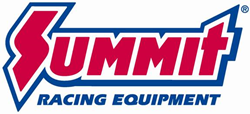 Tallmadge, OH (PRWEB) April 24, 2015
TSW Nurburgring Wheels are both lightweight and extra strong. The weight reduction occurs in the wheel rim, dramatically reducing rotational mass for better cornering, acceleration, and braking capabilities.
The team at PowerNation TV's Truck Tech liked TSW Nurburgring wheels so much, that it built a custom axle and widened a set of fenders just to fit the special wheels on the Truck Tech 1955 Ford F-100. Watch the full episode here.
TSW's Rotary Forging process involves forging the rim of the wheel at high pressure, while the wheel is spun at high speeds. The technique actually changes the composition of the aluminum at the molecular level, to greatly enhance the strength of the alloy.
TSW Nurburgring Wheels come in 17, 18, 19, and 20 inch diameters in most common 5-lug bolt patterns. A wide range or backspacing and offset options are available. Select from a gunmetal or bronze finish.
Summit Racing Equipment
http://www.SummitRacing.com
1-800-230-3030