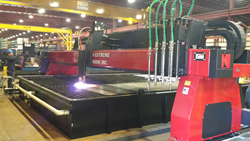 Our goal is leverage this new equipment across three shifts daily to increase our machining capability—including meeting fixture base plate requirements quickly and easily without incurring a secondary process
Rochester, NY (PRWEB) April 16, 2015
Klein Steel Service Inc., a full-line metals service center with a worldwide distribution network, is pleased to announce the addition of a new Versagraph Extreme CNC plasma/oxy-fuel cutting machine to its existing fleet of burn tables, which greatly enhances the company's efficiencies and ability to offer previously unmatched hole quality.
The Koike Aronson Versagraph Extreme has been fitted with the Hypertherm HyPerformance® Plasma HRP400XD and True Hole™ technology. With a production pierce of 50 mm (2") for mild steel and 75 mm (3") for stainless steel, the HRP400XD delivers the ultimate in mild steel plasma cutting performance with the versatility to deliver industry leading stainless steel cut quality. In addition, the patent-pending True Hole cutting technology produces significantly better hole quality than previously possible using plasma.
"Our goal is to leverage this new equipment across three shifts daily to increase our machining capability—including meeting fixture base plate requirements quickly and easily without incurring a secondary process," said Todd Zyra, President. "This, in turn, frees up our high-speed drill line to meet incremental customer needs with reduced lead times."
"Our team is constantly evaluating new equipment that will enable Klein Steel to best meet our customers' needs today and in the future," added Jim Sloan, Director of Operations. "When it comes to plasma/oxy-fuel technology, we always come back to Koike Aronson. For the past 20 years, they have continually served us well with maximum uptime and productivity."
Founded in 1971, Klein Steel Service Inc. is a premier steel service center with locations throughout New York. With over 3,200 line items of carbon, stainless steel, and specialty metals, the company offers a full range of value-added processing, an integrated distribution network that extends the Klein Steel reach worldwide and compliance to strict NQA-1 guidelines. Klein Steel is acknowledged as an innovator and industry leader having been named a finalist in 2014 and 2015 for the Service Center of the Year award from American Metal Market, a 2015 finalist for the Platt's Global Metal Distributor of the Year award, a 2015 winner of a Rochester Top Workplaces award, a 2012 recipient of the Rochester Business Ethics Award, and winner of the IndustryWeek Best Plants award in 2011.
Our Mission: Klein Steel strives to be the premier supplier of metals by providing solutions to meet our partners' needs. We attract and engage the best teammates, suppliers, and customers while embracing innovation and continuous process improvement.