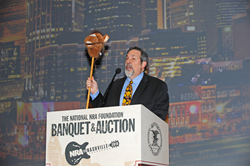 Known as America's Gold Expert, Fuljenz stated, "There are three precious metals of freedom: gold, silver and lead."
Beaumont, TX (PRWEB) April 16, 2015
The National Rifle Association (http://www.NRA.org) has presented one of its highest honors, the NRA Golden Ring of Freedom gold jacket, to Michael Fuljenz, President of Universal Coin & Bullion Ltd. of Beaumont, Texas (http://www.UniversalCoin.com). The award recognizes individuals who provide the resources required to help preserve the uniquely American freedoms set forth by the United States' Founding Fathers in the Second Amendment.
During a speech at the NRA National Foundation Banquet in Nashville, Tennessee on April 9, 2015, Fuljenz held up a toy stick horse and admonished critics of the organization when he declared, "The NRA is not a one-trick pony."
He emphasized the NRA is education for gun safety, training for law enforcement officers, support for hunters and it sponsors competitive shooting contests. Fuljenz also said that NRA members should not be pigeon-holed or stereotyped by the news media: "The NRA is composed of many people: community leaders, charity volunteers, youth coaches and so many other law-abiding citizens, salt of the earth good people."
Known as America's Gold Expert®, Fuljenz stated, "There are three precious metals of freedom: gold, silver and lead."
As part of the recognition for their support, inductees into the NRA Golden Ring of Freedom donors recognition society receive a custom-tailored gold sport coat created by celebrity and sports stars tailor Chris Ahern, owner of Jack Christopher Custom Clothing in Baltimore, Maryland.
A community leader in his hometown of Beaumont, Texas, Mike Fuljenz served as President of the Diocese of Beaumont Catholic School Board and was Little League Chief Umpire. An award-winning numismatic author of books and newsletters about rare coins and precious metals, he is a frequent interview guest on radio and TV news and personal finance programs, a Benefactor Member of the NRA, long-time supporter of the NRA's Eddie Eagle Gunsafe® program and The Exclusive Precious Metals & Rare Coin Expert of NRA Publications.
He met with hundreds of NRA members to talk about gold coins during the April 10 -12, 2015 NRA Annual Meetings & Exhibits in Nashville. He also autographed copies of the just-published latest edition of his award-winning reference book about U.S. gold coins, "Type Three Double Eagles, 1877 - 1907."
Investors can get a complimentary copy of Fuljenz's award-winning Personal Gold Guide, an informative booklet that is the only gold guide honored as The Best Dealer Publication by the prestigious Numismatic Literary Guild (NLG) and recognized as the Best Brochure by the Press Club of Southeast Texas.
For a free copy of the Personal Gold Guide or to purchase a copy of "Type Three Double Eagles, 1877 - 1907" for $39.95 (including shipping), call (800) 822 - 4653.