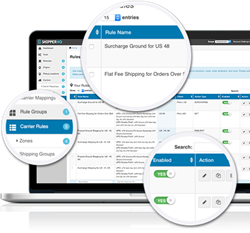 ShipperHQ makes it easier than ever for merchants to manage the rates and options offered to customers.
Dublin, OH (PRWEB) April 17, 2015
WebShopApps, developers of the most popular shipping extensions for the Magento eCommerce platform, announced today that its revolutionary, cloud-based shipping management platform, ShipperHQ, is now UPS Ready approved. ShipperHQ leverages WebShopApps' experience and innovation to bring merchants a cloud-based shipping rate management solution.
Since 2008, the WebShopApps team has served tens of thousands of eCommerce merchants worldwide and ShipperHQ makes it easier than ever for merchants to manage the rates and options offered to customers. Functionality includes dimensional shipping calculations, fully-featured multi-origin and dropship rating, multi-location in-store pickup, powerful custom rate management, and now full support for a variety of UPS® services in the US, UK, Canada, and Europe.
The UPS Ready program recognizes software solutions and providers that go above and beyond to produce consistent and accurate results for their customers. WebShopApps became a UPS Ready provider through dedicated development work and by leveraging years of experience in the ever-changing eCommerce industry. The WebShopApps team is looking forward to new opportunities made possible by this important relationship with UPS and its global logistics network.
"As market leaders in eCommerce shipping, WebShopApps is thrilled to foster a closer relationship with UPS," says Daniel Ziegler, Partnership Director at WebShopApps. "We are working hard to build connections between the robust services offered by UPS and the eCommerce platforms merchants use. The result will be increasingly dynamic shipping applications that make life easier for eCommerce merchants while giving their customers the flexibility they want."
Ziegler also notes that as a UPS Ready provider, ShipperHQ will be able to offer the most up-to-date UPS services to eCommerce merchants, all while keeping attune to marketplace changes. ShipperHQ will keep merchants well-informed and prepared going into the future. More information can be found at ShipperHQ.com.
About ShipperHQ
ShipperHQ is a product of WebShopApps and has taken eCommerce shipping to the next level. It combines the power and functionality of WebShopApps' diverse collection of shipping extensions and years of eCommerce experience into one easy-to-use application. WebShopApps has offices in the US, UK, and Australia.