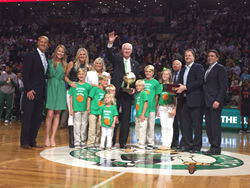 It is such an honor 50 years later he is remembered and celebrated for this winning play.
(PRWEB) April 16, 2015
Chris Havlicek's father, John Havlicek, is a Boston Celtics legend who is still remembered and celebrated decades later. Just a couple of days ago, on April 14th, John Havlicek was honored for the 50th anniversary of his winning NBA play that forever changed his life and NBA history as we know it.
The Boston Celtics were against the Philadelphia 76ers in the 1965 Eastern Conference, which lasted until Game 7. The Celtics were down by one point nearly losing the Championship Game, until a famous play was made by John Havlicek. During the last few seconds of the game, Havlicek stole the ball from one of his opponents, causing Celtics announcer Johnny Most to scream "Havlicek stole the ball!" a line that will forever be remembered in NBA history.
With a successful 16 season basketball career, Havlicek scored an average of 20.8 points, and is now ranked as the Celtics' all-time leading scorer. Following his legendary steal, Havlicek went on to score 26,000 points throughout his NBA career which allowed him to rank as the sixth highest scorer in all NBA history. Today, 50 years later, Havlicek is still honored and celebrated for his amazing career and play that will be remembered for eternity. Havlicek's son, Chris, quoted, "I am very proud of my father and this amazing accomplishment. It is such an honor 50 years later he is remembered and celebrated for this winning play."
Dignitaries of the April 14th event included Tom Heinsohn, Sam Jones, Mel Counts, Sam Sanders and John Havlicek. The five members of the 1964-1965 Team gathered at a Boston hotel and spoke about the famous play. Havlicek explained to the crowd that Celtics announcer Johnny Most made the play what it is today, and without Johnny ever announcing it, it would have been another ordinary steal. It has been 30 years since John Havlicek has played for the NBA and his legacy still lives on. In November of this year, Havlicek will be inducted into the 2015 College Basketball Hall of Fame in Missouri. To learn more about John Havlicek's career visit: http://www.chrishavlicekcareer.com.