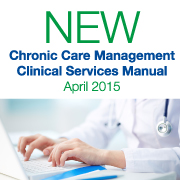 Physicians are eager to make CCM available to their patients, but are hesitant because the billing rules are unfamiliar. PYA's CCM manual explains these rules in a straightforward manner
Knoxville, TN (PRWEB) April 17, 2015
Since Medicare began paying for chronic care management (CCM) services on January 1, 2015, many providers seeking to furnish these services have requested comprehensive guidance to help them implement an efficient and compliant CCM program.
In response to this need for guidance, PYA has published the "Chronic Care Management Clinical Services Manual," a resource that offers a simple, straightforward explanation of the Medicare billing and compliance rules for CCM. The manual is a "one-stop shop" for providers developing CCM programs, and includes sample policies, procedures, and forms to use in implementing CCM.
The manual was developed by an integrated team of clinicians, practice administrators, auditors, and attorneys with decades of experience in Medicare compliance. It was designed specifically to meet the needs of independent physician practices, hospital-based physician practices, accountable care organizations, and companies seeking to furnish care management services and technology solutions for CCM providers. The manual is a follow-up to PYA's well-received white paper, Providing and Billing Medicare for Chronic Care Management.
PYA Principal Martie Ross explained, "Physicians are eager to make CCM available to their patients, but are hesitant because the billing rules are unfamiliar. PYA's CCM manual explains these rules in a straightforward manner and provides resources to help providers furnish CCM in a compliant manner."
Additional information about obtaining the CCM manual, along with reference tools may be found on the PYA website.
PYA is a recognized industry leader in CCM support services, assisting organizations in developing effective and efficient CCM programs by translating complicated rules and regulations into practical, straightforward strategies.
---
About PYA
For over three decades, Pershing Yoakley & Associates (PYA) has provided timely insight and strategic support, helping clients thrive in the midst of rapid change. PYA is ranked by Modern Healthcare as one of the nation's largest privately held healthcare management consulting firms. For more information, visit http://www.pyapc.com/.