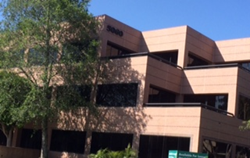 Outgrowing office space is a wonderful problem to have.
San Diego, CA (PRWEB) April 21, 2015
Kiran Analytics – a leader in intelligent branch transformation for retail banks – announced the completion of its move of its headquarters to a new building in San Diego on April 1, 2015. The new location more than doubles the size of its previous facility to accommodate Kiran's growing workforce.
"Outgrowing a space is a wonderful problem to have," said Jim DeLapa, CEO of Kiran Analytics. "With our growing team, we needed more office space for staff, conferences, and training. This new office provides a modern and spacious environment for our innovative team of software developers, banking analytics specialists, and client services engineers. Our new facility also provides several conferences rooms and a large training room to accommodate meetings for our growing customer base."
In the past year, Kiran Analytics added several new staff members to its analytics, client services, and product development teams. In addition, Kiran grew its retail banking customer base with new customer acquisitions and new applications to existing customers.
"We are a growing software company focused on pushing the boundaries of our predictive analytics driven solutions for the workforce. Our cloud based applications must meet the most stringent business, IT and compliance requirements of world's largest banks. With our new facility, we are able to provide our team of highly motivated talent an ideal environment to create innovative solutions", Delapa added.
The new Kiran HQ is located at 5060 Shoreham Place, Suite 200, San Diego, CA 92122.
About Kiran Analytics
Kiran Analytics drives intelligent branch transformation for retail banks through the application of predictive analytics, resulting in increased sales and service effectiveness, and reduced operational costs. Kiran's workforce optimization solutions have been deployed in over 10,000 branches; helping forecast branch staff levels accurately, hire better people faster, and plan and schedule resources efficiently. Kiran Analytics is a member of Bank Administration Institute (BAI) and Consumer Bankers Association (CBA). For more information, visit http://www.kiran.com.