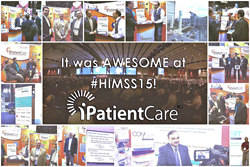 We get tremendous satisfaction and motivation by exhibiting our innovations at HIMSS every year which also helps positioning iPatientCare as a national thought-leader in this space" - Kedar Mehta, CTO, iPatientCare
Woodbridge, NJ (PRWEB) April 17, 2015
iPatientCare, Inc., a pioneer in mHealth and cloud-based Ambulatory EHR and integrated Practice Management & Patient Engagement solutions successfully demonstrated its first and the only ConCert by HIMSS™ certified ambulatory EHR and Patient Self Check-in Kiosk solutions at the recently concluded HIMSS15 Annual Conference & Exhibition at Chicago, April 12-15, 2015.
The HIMSS Annual Conference and Exhibition breaks new ground each year showcasing the value of healthcare IT with leading-edge clinical, education, exhibition, networking, special events and more. The conference features the largest and most extensive technical exhibition and the strongest networking opportunities in the healthcare IT industry. Over 35,000 people attended the 2015 HIMSS Conference in Chicago this year. HIMSS15 focused interoperability, patient engagement, PQRS & Meaningful Use, mHealth, ICD-10, among many other topics important for the global healthcare IT.
"We had a great rush during the show this year, thanks to the two major announcements that made us proud. The first one came on the very first day, regarding iPatientCare being the first ConCert by HIMSS™ certified ambulatory EHR, followed by iPatientCare signing an agreement to offer ambulatory EHR solutions through the GNYHA Ventures Group Purchasing Contract Portfolios." said Udayan Mandavia, President/CEO, iPatientCare. "iPatientCare's PQRS and Meaningful Use dashboard and reporting along with the expansion of its core product suite consisting of Ambulatory and Inpatient EHR, Billing and Patient Engagement aims to pave the way towards improved health, enhanced care and reduced per-capita costs.", he further added.
Kedar Mehta, CTO, iPatientCare was very upbeat about his team's engineering excellence and commented, "US healthcare reforms need innovations in information technology and iPatientCare's engineering team is committed to deliver such innovations faster, better and even before the market perceiving the commercial use. Our products on Google Glass, Android Ware and Apple watches, FitBit gadgets for the mHealth and patient remote monitoring solutions are ahead of the time. We get tremendous satisfaction and motivation by exhibiting our innovations at HIMSS every year which also helps positioning iPatientCare as a national thought-leader in this space."
iPatientCare looks forward to exhibiting and professional networking at HIMSS16, Las Vegas, February 29 through March 4, 2016.
About iPatientCare:
iPatientCare, Inc. is a privately held medical informatics company based at Woodbridge, New Jersey. The company is known for its pioneering contribution to mHealth and Cloud based unified product suite that include Electronic Health/Medical Record and integrated Practice Management/Billing System, Patient Portal/PHR, Health Information Exchange (HIE), and mobile point-of-care solutions that serve the ambulatory, acute/sub acute, emergency and home health market segments.
iPatientCare EHR 2014 (2.0) has received 2014 Edition Ambulatory Complete EHR certification by ICSA Labs, an Office of the National Coordinator-Authorized Certification Body (ONC-ACB), in accordance with the applicable eligible professional certification criteria adopted by the Secretary of Health and Human Services (HHS).
Full certification details can be found at ONC Certified Health IT Product List.
The ONC 2014 Edition criteria support both Stage 1 and 2 Meaningful Use measures required to qualify eligible providers and hospitals for funding under the American Recovery and Reinvestment Act (ARRA).
The company has won numerous awards for its EHR technology and is recognized as an innovator in the field, being a pioneer to offer an EHR technology on a handheld device, an innovative First Responder technology to the US Army for its Theatre Medical Information System, the first to offer a Cloud based EHR product. iPatientCare is recognized as one of the best EHR and Integrated PM System for small and medium sized physicians' offices; has been awarded most number of industry Awards; and has been recognized as a preferred/MU partner by numerous Regional Extension Centers (REC), hospitals/health systems, and academies.
Visit http://www.iPatientCare.com for more information.