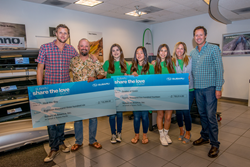 Torrance, CA (PRWEB) April 17, 2015
Subaru Pacific, a proud member of the LAcarGUY family and the leading Subaru Dealer in Torrance and Los Angeles, once again helped to raise money in Subaru's annual "Share The Love Event." When consumers purchased or leased a new Subaru from November 20, 2014 through January 2nd, 2015, Subaru donated $250 to one of five national charities, or local charities, based on the consumer choice.
Grades of Green and Heal the Bay are two cornerstone charities for LAcarGUY and we are excited to announce that as part of the "Share The Love" promotion Subaru Pacific raised $49,750 for local charities including $20,514 for Grades of Green and $18,306 for Heal the Bay. Remarkably, Subaru's two local charities out-earned Subaru's national charities in the Los Angeles Region.
Grades of Green works with school children in making environmental protection "second nature" in young minds. Heal the Bay works to make Southern California coastal waters and watersheds safe, healthy and clean.
Committed to changing an "environmentally-challenged" industry and protecting future generations, LAcarGUY is active in local environmental programs and initiatives. In an effort to encourage adoption of electric vehicles, LAcarGUY recently became the first automotive dealer in the country to offer electric charging stations at its dealerships that are open to the general public. In 2010, LAcarGUY introduced the new position, Manager of the Environment, for the sole purpose of helping LAcarGUY reduce its carbon footprint through employee education and infrastructure changes. On Earth Day 2010, the company launched LAcarGUY.com/green featuring its green vehicle inventory as well as green technology news and updates on LAcarGUY's internal sustainability efforts. Mike Sullivan, LAcarGUY's president, serves on the Regional Board of Directors for Global Green and Heal the Bay, on the Advisory Board for the Environmental Media Association, and currently sponsors Heal the Bay's Santa Monica Aquarium.